CNBC Thanksgiving Day Special: "The Wizarding World of Harry Potter Revealed"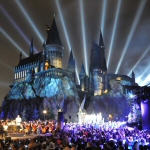 Nov 10, 2011
A new special called "The Wizarding World of Harry Potter Revealed" will air on CNBC on Thanksgiving Day, Nov. 24 at 10:00 p.m. ET. according to a press release.
The 30 minute program will feature interviews with the filmmakers and a behind the scenes look at the creation of the theme park in Orlando.

Hear
from the filmmakers and stars of the Harry Potter movies as they take
you behind the scenes of the creation of The Wizarding World of Harry
Potter at Universal Orlando Resort. Get a peek at all the amazing rides
and attractions that bring the world of Harry Potter and his friends to
life.
Don't forget this weekend Leaky will also be present at the Wizarding World of Harry Potter to cover the Harry Potter Home Entertainment Celebration and speak with members from the cast and crew of the films!