David Heyman Comments on Possible Theme Park Expansion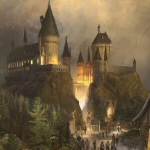 Nov 18, 2011
In an exclusive interview with the Toronto Sun, Harry Potter producer David Heyman acknowledged that Universal Studios is planning an expansion to the popular Wizarding World of Harry Potter theme park, though did not elaborate on any details.

Heyman confirmed with Sun Media that details are being planned,
including new Potter-themed thrill rides. Heyman himself has been
thrilled with the response. "This is the first time we've been here with
this crowd," he said of "real fans" of the Harry Potter universe. "You
realize it does live on and it lives on in so many ways."
Do note that any expansion would still be a few years off, but it's an exciting prospect! What are some Harry Potter-themed rides you'd like to see?