Warner Bros. Hosts Harry Potter Luncheon in NYC with Dan Radcliffe, Alan Rickman Present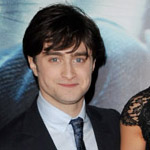 Nov 22, 2011
The Hollywood Reporter was present on Monday when Warner Bros. hosted a luncheon to celebrate the Harry Potter franchise at Club 21 in New York City. In attendance at the luncheon were Daniel Radcliffe, Alan Rickman, director David Yates and producer David Heyman.
Video of Yates and Heyman making remarks about the Harry Potter series during the luncheon can be seen below:
THR also spoke to Radcliffe prior to the luncheon where he talked about his feelings now that Potter is behind him and the adjustment to life in the public eye. Audio of the interview along with a full transcript is available here.

What are your feelings now that it has all wound down?
Daniel Radcliffe: Well, you know, I think my
feelings are that the series is, kind of, its own commemoration — I
mean, to me at least. I won't be able to look at any of these films
without remembering what they did for the British film industry at a
time when it wasn't doing great — it's now flourishing, but in the
early half of the decade, you know, there was nothing happening, and
films were closing, and Potter was the only, kind of,
sure-thing happening in England. And, you know, my memories of it are
incredibly nostalgic, and romantic, and, I think, how everybody views
their teenage years, you know: with complete idealism, having forgotten
that there was ever any, you know, hormonal rage or any of that kind of
stuff. You know, I had a moment the other day of actually really missing
it for the first time since, of going, "God, I miss those people!" But,
yeah, I mean, it's been over a year now, and I've been having this
amazing year here, so it's been a great first year away — may they all
be this good!