Winners of Leaky's November Contest Announced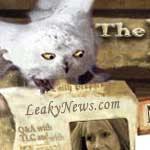 Dec 11, 2011
The winners of Leaky's November contest, where readers were charged with creating a new obstacle to protect the Sorcerer's/Philosopher's Stone, have been chosen!
First place went to Lady Black, second place to A Sluggish Memory, third place went to Laura Keaton, and honorable mentions went to Calum Wilson and Clara Guinez. You can see what each user submitted by clicking on their names.
Congrats to everyone who won!