Knight Bus Joins Exhibits at Warner Bros. Studio Tour London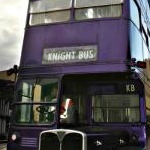 Jan 26, 2012
Warner Bros. announced today that the famous triple-decker Knight Bus will become a permanent fixture at The Making of Harry Potter – Warner Bros. Studio Tour London.
Fans will have the opportunity to explore the inside of the bus and pose for photos. It will be situated next to Hagrid's motorbike and the Weasley's Ford Anglia. Photos of the Knight Bus at Leavesden Studios can be seen at this link.
John Richardson, special effects supervisor for the Harry Potter films, explained to the Watford Observer how the Knight Bus was constructed:

"Although many people think the Knight Bus was a CGI creation, it is
in fact a real-life working bus. To construct it, we cut up two iconic
Routemaster buses, reworked the structure and
bolted it all back together to create one bus with three decks. It took weeks to put it together and it was no easy task.
Routemasters are 60 years old, so we had to do a lot of strengthening of
the structure.

Another issue we had was filming on location in London. During the shooting of Harry Potter and the Prisoner of Azkaban we
found we could not drive it across the capital due to the number of low
bridges. This meant that we had to transport the bus in
two pieces between locations and put it back together between filming."
The Making of Harry Potter at Warner Bros. Studio Tour London will open on March 31, 2012. Tickets can be pre-booked on their website; tickets will not be available for purchase at the studios.