Warner Bros. Studio Tour Presents a Look at the Hogwarts Castle Scale Model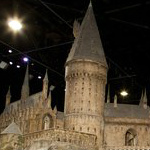 Mar 02, 2012
Warner Bros. has released several pictures of the Hogwarts Castle model, which was used in all of the films for some exterior shots of Hogwarts and which will be the grand finale of the Warner Bros. Studio Tour London:
The Hogwarts castle model is the jewel of the Art Department and was built for the first film, Harry Potter and the Philosopher's Stone.
It took 86 artists and crew members to construct the first version
which was then rebuilt and altered many times over for the next seven
films. The work was so extensive that if one was to add all the man
hours that have gone into building and reworking the model, it would
come to over 74 years. The model, which sits at nearly 50 feet in
diameter, has over 2,500 fibre optic lights that simulate lanterns and
torches and even gave the illusion of students passing through hallways
in the films. To show off the lighting to full effect a day-to-night
cycle will take place every 4 minutes so visitors to the Tour can
experience its full beauty.
An
amazing amount of detail went into the making of the model: all the
doors are hinged, real plants are used for landscaping and miniature
birds are housed in the Owlery. To make the model appear even more
realistic, artists rebuilt miniature versions of courtyards from Alnwick
Castle and Durham Cathedral, where scenes from Harry Potter and the Philosopher's Stone were shot.
The Warner Bros. Studio Tour London will open on March 31st. Tickets will be £28 for adults, £21 for children and £83 for a family of four. You must purchase your tickets in advance. You may buy your tickets and learn more about the tour here.
Along with the Hogwarts castle model the Studio Tour will feature looks at other memorable Harry Potter sets:
In addition to the Hogwarts castle model the attraction
will contain some of the most iconic Harry Potter film series sets including the Great Hall, Diagon Alley, Dumbledore's office, the Ministry of Magic,
Harry Potter's famouscupboard under the stairs, 4 Privet Drive, Gryffindor common room, the boys' dormitory, the Potions classroom, Professor Umbridge's office, the Weasley kitchen and the Hogwarts
bridge.
The official Warner Bros. Studio Tour London Twitter account release a look at Professor Umbridge's office earlier this week, and you can see that here in our galleries.