September Contest: King's Cross Guard Journal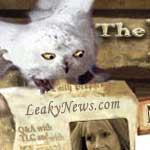 Sep 02, 2012
For this month's contest we're asking you to write a journal entry as a King's Cross guard beginning with the line, "Strange things are happening at King's Cross Station…" Naturally, the journal entry is dated September 1st. When writing the entry be sure to mention any strange occurrences, people, or creatures spotted on that day and what you thought of them. Did they ask odd questions, cause disturbances, or seem to vanish into thin air? Be creative.
Submissions must be e-mailed to [email protected] by 11:59 pm (EDT) on September 30th, with "Journal Entry" in the subject line of the e-mail. Please remember to copy-paste your Journal Entry into the body of the e-mail and include a name to be used for authorship. You may use your real name or your Leaky Lounge name.
The first place winner will receive a handcrafted wand (design changes each month) and a copy of the book The Practitioners Guide to Wand Magic by William C. Wilson, both donated by Wizard Wood Wands, as well as 200 MyLeaky points. Second, third, and honorable mention(s) will receive 150, 100, and 50 MyLeaky points respectively.
For more information please go here. Best of luck to all who enter!