Daniel Radcliffe talks "Frankenstein" at Comic Con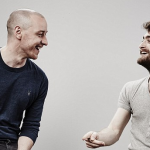 Jul 12, 2015
As hoped, Daniel Radcliffe talked more of his BBC film, Frankenstein. He described the film with every type of adjective and genre in the filmmaking industry in a video posted by the Daily Mail. He promoted the film with formal photos taken at Comic Con, with his co-star James McAvoy. These photos can be seen in the Daily Mail article.
Entertainment Weekly was also able to catch up with Dan on the panel, in the "Entertainment Weekly Lounge" at Comic Con. Dan was dressed in costume when he hit the show floor, but didn't remain in it for long. EW reported:
The two, along with director Paul McGuigan, spoke with EW's Tim Stack about their experiences at the show, including how McAvoy's bald look has actually helped him get around incognito.

The three also talk about what audiences can expect from the film, and whether or not it'll put a few unexpected spins on the Frakenstein mythos.
The video from EW's Lounge can be seen on their website.
Hypable reported Daniel Radcliffe and James McAvoy's comments from the Comic Con panel, saying:
"We shall create life out of death," says James McAvoy in the first Victor Frankenstein trailer. The preview is packed with special effects and action, as McAvoy's Frankenstein and Daniel Radcliffe's Igor work together to create a monster. The trailer is incredibly entertaining and — more surprising — it's very funny. "It's alive!" Igor whispers at one point. "Yes, well, that's rather obvious" responds Dr. Frankenstein.

We then saw a clip from the film in which Frankenstein attempts to create life in front of his peers. After accidentally electrocuting himself and causing a bug infestation to erupt from his monster, his attempts to bring his zombie-monkey to life actually work. This is followed by a scene in which Igor looks for the creature and it attacked by it — but it seems as if there might be some scenes in between these two that were cut out.
The Washington Post added a few words:
Daniel Radcliffe and James McAvoy also came out to talk about their film "Victor Frankenstein," out Nov. 25. It's inspired by Mary Shelley's novel but told from Igor's (Radcliffe) perspective. McAvoy said the film is about obsession, and the relationship between Igor and Victor.

"I'm trying to pull him back from the edge of insanity. How do you stand up and tell someone they're wrong when they've given you everything you have?" said Radcliffe.

They also showed a clip of the terrifying moment the homunculus comes to life.