Birthday Boy Daniel Radcliffe Shares Voice-acting Appearance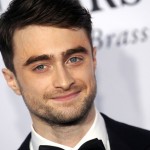 Jul 23, 2015
Today we wish a happy birthday to Daniel Radcliffe!  The lead actor of the Harry Potter films turns 26 today.  With so many upcoming projects, including Victor Frankenstein, this is sure to be a good year for him.
For a behind-the-scenes look at another project, Radcliffe recently posted a clip of a voice-acting appearance on Bojack Horseman to his Google+ page.
Bojack Horseman is an animated Netflix original series, starring Will Arnett in the present-day as a washed-up '90s sitcom actor.  Daniel Radcliffe made an appearance in a recent episode of Season 2.
Only he knows what other projects he has in the works, but please join us in wishing Daniel Radcliffe a very happy birthday– and many more!