Leavesden Studio Announces Expansion, September Screenings Begin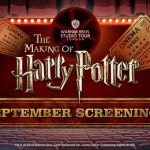 Sep 20, 2015
Warner Bros. is planning another multi-million dollar expansion of its Leavesden studios in Hertfordshire, England, according to a report from The Guardian.  The addition will enable the studios to better accommodate future large-budget films, including Fantastic Beasts and Where to Find Them.
Improvements to the Harry Potter Studio Tour are also included in the expansion plan.  As The Guardian reports, the Harry Potter film archive housed in the Leavesden studios has more than 5 million visitors each year, making it one of the most visited sites in Britain.  All of this traffic doesn't count the hundreds of people working on films there each day.
Warner Bros' vision could give a major boost to employment and training in the UK. Some of the biggest productions employ anything up to 750 people on construction, with an average shooting crew of 250…One insider said of the backlot: "We think it's the biggest in Europe. Some of the producers say it's the biggest they've come across."
This week is also "Harry Potter September Screenings" at the Studio Tour.  Guests will be able to watch a Harry Potter film where it was made as part of their tour package.
Tickets must be pre-booked and are priced at £49 per adult and £41.50 per child. This includes entry to the Studio Tour, a foamy cup of Butterbeer, a film ticket, a hot snack, popcorn or sweets and a soft drink.

Screenings began with Harry Potter and the Philosopher's Stone on September 19th, and will continue with a subsequent film each day this week, concluding with Harry Potter and the Deathly Hallows — Part 2, on Saturday, September 26th.
For more information about the Leavesden expansion, see The Guardian article, here; to learn more about "Harry Potter September Screenings," see here.