Bonnie Wright Talks Harry Potter Films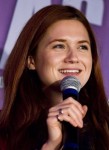 Oct 30, 2015
Harry Potter fans in Texas got a special treat this October.  Bonnie Wright, our beloved young Ginny Weasley, spoke as a featured panelist at Dallas Comic Con 2015.  Her mediated Q&A session lasted about 45 minutes and covered everything from her casting to the final days of filming Harry Potter and the Deathly Hallows Part 2.  She also talked about her more recent projects and met with fans and signed autographs all weekend.  Snitchseeker.com was lucky enough to witness the event.
Here are some highlights of Bonnie Wright's interview:
On her casting:
So I was 9 years old when I was cast. So I, at that moment, hadn't had any previous experience outside of school plays. My older brother, who's kinda my Ron of real life, he had started reading the Harry Potter books. He was a fan of the books and as his younger sister, he saw me as his Ginny and we heard these were doing these auditions and they were going to make these books into films, he said "You should go and audition for the role of Ginny."

And so, my mom came home from work and I was like "Can you get me an audition?" and obviously my parents didn't have anything to do with the industry. So, anyway we managed to get an audition. At the time, Ginny's character was quite a small role, we didn't know where it was going to go. My first day on set was on Platform 9 ¾ and I remember being, when you're that young every increment is so important, and I remember being 9 ¾ on 9 ¾! It was like a big deal at the time.
On director Chris Columbus:
I think Chris Columbus is sometimes often forgotten for the amazing work he did to establish us. He established us as a family; he established what coming home to Hogwarts meant. He really understood telling that family story, also his other work. He really brought out the comedy in all of us. He really brought out the performance in all of us. I just felt so comfortable with him on set. He was just amazing. He would just talk and joke with us.
On the butterbeer on set:
We had the first scene where the Great Hall was dressed for Halloween, I've never seen so many sweets in my life! By about mid-day we were all like ahhh, sick. I didn't have pumpkin juice, we did butterbeer. They used to use, like to make butterbeer, they got orange juice and they whisked egg whites to put on top to make the foam. Which is horrible. When they open the Wizarding World in Orlando, all of us were so excited to try the butterbeer. I don't know if anyone's tried it here, it's pretty good. You get like 5 sips and then it's like sugar overload. I wish they had gotten it quicker in inventing that.

The Harry Potter characters she wishes she could play:
For pure fun and ridiculousness, probably Hagrid, because I always used to say that and people would say, "What do you mean?" and I would tell them I really want to stand on stilts and walk around. And then they were like, would you really want to wear all that….. There was a guy for the far away shots, I think he was like a rugby player, and they expected us to walk beside him. He had this huge costume and stilts and this giant automated head. I thought that was pretty cool. I always loved McGonagall. She was like that teacher you had at school that you looked up to and wanted to be but was also terrified of her, at the same time. I loved that bit when she was a cat and turned back into herself. It was funny to watch.
On filming around the CGI in the Hall of Prophecy:
Stuart Craig, who designed the sets, his attention to detail was like incredible. But, there was one scene that I remember just being like "What? Are they joking? Who does that?" There were like grates on the floor and green screen everywhere and these like, tiny white pathways. In that scene we were in the Ministry of Magic and we were meant to be running through the like glass orbs, which we're trying to find… and they are all falling, and obviously they couldn't have thousands of glass balls falling on top of us, and that I remember being really ridiculously stupid. All of us just laughing cause we were like "Where do you want us to run?" We all needed to ask, "Are we walking into glass? What are we walking into?" And we were just running down these tiny pathways chasing each other.
On kissing Daniel Radcliffe:
Never Kiss and tell.  You can probably imagine. I don't know. The thing is, like I said, it's not ….. the reality is very different than kissing like your partner, whoever in your life. It's like, by the 80th take with like 6 cameras and lighting being fiddled around and like fifty people sitting around watching it's not as romantic as it looks on screen.
The hardest scene to film:
I would say the last one in terms of the epilogue scene that we did, the 19 years later, was something so bizarre– I think because at the same time as shooting that I think going through all our heads was "the ending," that sort of weird sense of ending. We never thought it would come to an end, but it was. That being the end of 10 years of my life and I was having to play a mother. It was so far from my reality. That was a real challenge I think. I think there was so much, all the casting process we did for the children, was really, really extensive.

Dan and I sat in a room and they came in one at a time. We sat around a table like a family. They wanted to make sure that dynamic between us and the children felt real, and so we spent a lot of time with them, getting to know them. What was really bizarre was we were back on Platform 9 ¾. The littler girl that was playing the youngest was, you know, close to 10 I think so nearly close to the age I was when I started so it was bizarre, kinda full circle. So, not only was there this emotional strain of finishing there was also this challenge of playing a new role. That was quite intense.
Her favorite behind-the-scenes moment:
I think, for me, the best moments were probably during the battle of Hogwarts in the last film just because it was this really strange thing that like loads of people that hadn't been in the last films came back for the battle so there was this amazing reunion feeling when we were shooting those scenes. And they were quite intense, there were a lot of night shoots a lot of dawn, sunrise shoots. It was pretty challenging few weeks. All of us had like cuts, and bruises and scars and so dirty, yet our friendships and comradery between us made it so enjoyable. So I think for me, in that moment, behind the scenes it just made me realize what a family I'd become a part of. It made me grateful to be a part of it.
To read a full transcript and see video of Bonnie Wright's session in Dallas, see Snitchseeker's report, here.  Thanks for recording it, Snitchseeker.com!