Pottermore's Visit to the Liverpool "Fantastic Beasts" Set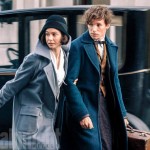 Nov 22, 2015
The Pottermore Correspondent has released new insider information into the Fantastic Beast filming that took place in Liverpool. Having traveled with the cast and crew of the films, the PMC was privy to all the details–more than the public photos snuck from behind the barricades of blocked streets.
The PMC recognized that moving the set out of Leavesden to Liverpool was too big of a production to try and keep secret. So they knew we were peeking through and snapping pictures from beyond the boundaries set up, and the PMC was free to acknowledge it. The PMC also said that he/she would not be telling us too many juicy secrets–because that would spoil the fun like telling a kid their mother is the Tooth Fairy.
"What they wanted to do instead of release details about Fantastic Beasts, is "paint [us] a word picture of what it's like on set:"
"It's night time on a Wednesday. I'm standing outside in the cold dark with my life (three snack size Milky Ways, one crumbly biscuit, a cup of mint tea, two pens, a tiny notebook, a back-up scarf and a portable charger) in my pockets. We all rub our hands together and watch as Jon Voight gets out of a stately black car and walks up the stairs of St. George's Hall. He does it again and again, up snow-drizzled stairs, to get the shot perfect."

"Inside, Ezra Miller prepares for his scene by beat-boxing in the green room. He walks by and introduces himself, tells me he's a Harry Potter fan. He seems to be the kind of actor who can play around and make people laugh right until they hear the word 'Action!' and then deliver their dialogue seamlessly. It's quite something to watch.

"The next day, filming moves to the Cunard Building by the river.

"Inside, Liverpool City Council staff try to get on with their day jobs knowing that Eddie Redmayne is filming downstairs. They tiptoe by, whispering, and I catch a few phrases: 'The one who got the Oscar for that Stephen Hawking film… Yes, the young one with the freckles… Something about Harry Potter, I think… He's just gorgeous… Oh, definitely wizards…'

"Eddie, meanwhile, is quiet. He paces slightly between takes, smiles at everyone softly, sits in his black canvas chair and ducks upstairs to the green room for some solace now and then. He slips his jacket on moments before running in front of the camera, and slips it off again gently when he comes out. He and Katherine whisper to each other, maybe it's their lines, maybe they're telling secrets, who knows?"
For more details about the PMC's visit to the Liverpool set, please visit Pottermore.