David Yates on building the 'Fantastic Beasts' cast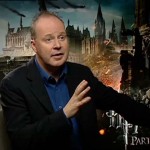 Dec 17, 2015
Pottermore have released details of an exclusive interview with David Yates on set of Fantastic Beasts and Where to Find Them.
Ezra Miller, Collin Farrell, explosions and (predictably) a lot of rain make an appearance on set, as Yates talks about directing the first of at least three Fantastic Beasts films after directing the last four Harry Potter movies:
'I'm so excited about this. J.K. Rowling was just inspired to set this movie in 1926 with a completely new set of characters' he says. 'I spent seven years doing four of her Harry Potter films so I was desperate to read this script, but also nervous, you know. 

'It's a beautiful script; it's really fun. It's fresh. She's got such a gift for creating adorable characters. These ones are special, they're really moving and funny. You see bits of yourself in them, or you see people you know.'
After watching the trailer on Tuesday, we're definitely excited to get to know these new characters – with humour, mystery and a fresh new (…old?) era of wizard culture to explore, Fantastic Beasts is certainly gearing up to be a great story!
On Newt Scamander (Eddie Redmayne):
'Newt is just fascinating. Probably anyone who's ever done some sort of geeky thing will relate to him… And filmmaking is a geeky profession,' he says. 'Newt's obsessed with beasts and cataloguing facts about beasts.'
Yates tells the mysterious Pottermore Correspondent that he was 'obsessed with lenses and cameras' when he was growing up, and said he 'really get[s] that aspect of someone who's truly obsessed with something.'
Lucky us Potterheads have just the right amount of experience with slightly geeky obsessions – Newt sounds right up our alley!
We also get told a little more about Tina Goldstein (Katherine Waterston):
'Oh she's so adorable because she's sort of so career-obsessed. A lot of us who work really hard can sometimes relate to that. Jacob is everyman, or everywoman, he's pure and I like that. Queenie's glamourous and somehow worldly but innocent. They're so great.'
And finally, Yates addresses how he built the cast around Redmayne's character:
'It was like putting a rock band together. We saw so many people. We got Eddie, he was our anchor and I knew once we'd got him, we had to build the world around him. The other characters in this world had to react to him, they had to have a chemical reaction with Eddie. So we went to New York and saw some really fine actors, a lot of them, over two or three days, one after the other in the same room, all of them with Eddie. '

'Eddie has done certain scenes from this movie so many times with so many different actors. When he was with Katherine, there was just something. It was amazing and I just thought, it's got to be Katherine. It's got to be. Then with Dan… Eddie and Dan are like Laurel and Hardy, so it had to be him. It's funny, how they just clicked.'
Read the full interview here, and watch the new Fantastic Beasts trailer here!