WB Studio Tour Celebrating 15th Anniversary of "Philosopher's Stone"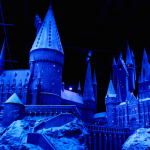 Jan 10, 2016
2016 marks the 15th anniversary of the release of the first Harry Potter film, Harry Potter and the Philosopher's/Sorcerer's Stone. As hard as it is to believe so many years have passed since we all rushed to the theaters, as youngin's, to see how our new favorite book series was going to be adapted to the big screen for the first time, the studio where the Harry Potter films were born are holding new events for this very special and sentimental occasion.
There are a number of exhibitions and displays coming to the WB Leavesden Studio Tour this year, for the celebration of this momentous anniversary. As the Hogwarts in the Snow exhibition comes to a close this January, a new exhibition, Welcome to Hogwarts, will be kicking of the anniversary celebrations from Thursday February 11-Monday February 22.
Welcome to Hogwarts gives visitors a chance to view iconic props that first appeared in  Philosopher's/Sorcerer's Stone that have never before been available for viewing. The props will be set up in the Great Hall, one of the first Harry Potter sets built 15 years ago. These props include the Sorting Hat sitting upon it's stool, floating candles above the teachers' table, and "secrets behind some of the first film's most recognisable scenes will be revealed."
Welcome to Hogwarts will be followed by a special exhibition on one of the most lovable characters in Harry Potter, who made his first appearance very early on in the first book. The Half-Giant Hagrid exhibit will be running from Friday March 25-Sunday April 17. The WB Studio Tour website details this event:
"During the Easter holidays you will learn how Hagrid, the half-giant who introduced Harry to the magical world of witches, wizards and, of course, Hogwarts, was brought to life on screen as some of the groundskeeper's costumes and props are showcased as well as the techniques that madeHagrid appear so huge. In addition you'll be able to see artists from Nick Dudman's creative effects team working on Gringott's Goblin prosthetics."
The end of spring/beginning of summer, just in time for family's to begin vacationing, will see a very special exhibition running from Friday May 27-Monday June 6. For the first time, and for a limited time only, fans at the WB Studio Tour will be able to step inside Number 4 Private Drive. WB describes this opportunity:
"For a limited time only we are offering you the chance to step inside Number Four, Privet Drive and peer into the Dursleys' living room as the exterior set is opened especially for the Studio Tour's anniversary celebrations of Harry Potter and the Philosopher's Stone. During production, set decorators were tasked with filling the house with Dursely-ish pieces of furniture and props and had lots of fun sourcing the ugliest sofas, worst tiles and most vulgar curtains possible."
As the summer draws to a close, and a new school term begins, fans have the opportunity to learn more about the adventures Harry, Ron, and Hermione experienced in their first year at school together. Finding the Philosopher's Stone will run from Friday July 22-Monday September 5. During this exhibition fans will learn and experience how many important protective obstacles that gaurd the Philosopher's Stone were made. WB reports:
"This summer, discover how giant chess pieces were made to move by filmmakers during the firstHarry Potter film, where Harry, Ron and Hermione embarked upon a quest to find and protect the Philosopher's Stone. You'll also find out how a three-headed dog (and its saliva) was brought to life and how the deadly Devil's Snare was taken from page to screen!"
The celebrations come to a close during late fall, the season most Harry Potter films were released. Harry Potter and the Philosopher's/Sorcerer's Stone first hit theaters on November 14, 2001. Leading up to the anniversary date, WB Studio Tour's last celebration exhibit, Fifteenth Anniversary Celebrations, will be running from Saturday October 15- Friday November 4. These celebrations are detailed as such:
"Fifteen years after the UK premiere of Harry Potter and the Philosopher's Stone, you will be able to admire authentic sets, props and costumes first created during production. The Great Hall will be dressed with a section of the Hallowe'en feast (complete with the costume of Professor Quirrell) and you'll have the opportunity to discover more about other sets that have stood the test of time including the Gryffindor common room, boys' dormitory and Hagrid's hut."
All of theses celebrations and special exhibits sound worthy of honoring such an important anniversary in the Harry Potter franchise. If you are planning a trip or would like more information about these events, please visit the WB Studio Tour website. What exhibition are you most excited, or would like to go see the most? What are your favorite memories of the first film? Where were you 15 years ago? Share with us your ideas on how to celebrate 15 years of Harry Potter and the Philosopher's/Sorcerer's Stone.