Eddie Redmayne on Researching how to be a Zoologist to Play Newt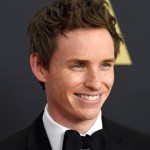 Feb 21, 2016
Eddie Redmayne sat down with the Telegraph for a very lengthy interview looking at his career thus far. Arguably, it is quite an impressive one. Among his many awards and nominations, Redmayne has won a Tony, Olivier, Best Shake­spearean Performance from the Critics' Circle Awards, Golden Glob, SAG, and an Oscar for his role as Stephen Hawking. While working on Fantastic Beast and Where to Find Them, Eddie has also been promoting his 2016 Oscar-nominated film, The Danish Girl.
And now he is the lead actor in one of the biggest film franchises in movie history (assuming that Fantastic Beasts is included in the Harry Potter franchise–who knows, it might be big enough to become its own franchise!).
Eddie talked of taking the role of Newt Scamander, what it was like to be working on such a big film with such a big budget, and how he researched for this role as he does for all his roles. Research for a magic zoologist? Yeah, totally possible. The Telegraph reports:
He says he is having a lot of fun on Fantastic Beasts. Directed by David Yates (who made the final four Harry Potter films), the cast includes Katherine Waterston, Samantha Morton and Colin Farrell. The film is set 70 years before the Harry Potter story begins, in New York, where Newt Scamander is attending the Magical Congress of the United States of America, following his world travels to find magical creatures.

'What has been so great about this one is seeing a bigger budget being used,' he says. 'Every single head of department on this film is at the top of their game so they use that to the most extraordinary effect. The other day I was looking down at a set they have built, New York streets in the 1920s, and as far as your eye can see are cars, smoke machines, extras… It feels like going back to, and maybe we romanticise it, but a golden age of Hollywood with this huge scale of things.'

I wonder what he did to prepare for the role of Newt Scamander in Fantastic Beasts. 'Part of what I do, in relation to research is' – he is laughing – 'about exploiting the fact that you have one of the best jobs in the world. If you are given access to amazing astronomers to educate you when playing Stephen Hawking, why wouldn't you meet them?

'As I am playing a magizoologist I thought, why don't I go and shack up at London Zoo for a bit,' he continues. 'I spent a few days there and then I went down to Damien Aspinall's place, Port Lympne in Kent, and met the amazing handlers there. Some of them sleep with baby tigers when they're born. What was important for me here was to see how people with such a close relationship with animals communicate with them, because Newt has that. Then it is just a lot of fun.'
In the lengthy interview, Eddie goes on to talk about his career, the awards he's been nominated for, how he got into acting and manages being nervous while performing, and being voted GQ's Best Dressed in 2016 (his dad is his fashion icon!). The rest of the interview may be read here.