Sneak Peek of Hollywoods' Wizarding World of Harry Potter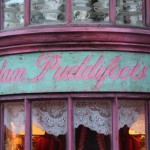 Feb 24, 2016
The Wizarding World of Harry Potter theme park in Universal Hollywood has been undergoing technical trials, allowing groups of lucky people test out the park before its grand opening April 7th. Theme parks typically under go technical trials, to ensure all is in working order when hoards of people flow into the park to experience all the park has to offer.
The technical trials also allow fans to get a sneak peek of the park, all set and ready to go for the longing Harry Potter fans on the West Coast. Collider recently released 200 photos of the park, waiting with open arms to welcome screaming Harry Potter fans into its magical experiences. These images can be seen here, and just a few can be seen below.
Behind the Thrills has also released an in depth article on their technical trial experience, including photos and videos detailing the food and fanfare offered at the park. Entertainment Weekly released detail-captioned photos as apart of their sneak peek of the park earlier this month. They quoted Stuart Craig and many other brains behind Potter on the theme park. Entertainment Weekly reported:
"Old-Fashioned Inside and Out
Even behind the Potter-ified façades, Gilmore and his team didn't cut corners to give the park an old-world feel. "There's no electricity," he says (meaning eckeltricity, of course). "It's all gas lighting, oil lighting. Any machines are mechanical, they're not modern electronics. You'll see motors; you'll see chains; you'll see the kind of older style of engineering." 

"Madam Puddifoot's Tea Shop
Though Harry Potter's world is obviously fictional, it exists within the (very nonfictional) United Kingdom, and retaining that sensibility was important to the design team. And what could be more delightfully British than Madam Puddifoot's charming teashop? Doesn't it look just ideal for Valentine's Day? (Just be sure not to tell your date you want to meet up with Hermione afterward…) 
Until April 7, fans can virtually explore the park through an interactive website. Touring virtually, fans can see that the new Harry Potter theme park has much to offer–the return of Zonko's joke shop, a bigger Owl Post and Ollivander's, more spacious walkways through Hogsmeade, new window displays (such as Harry and Cho Chang's failed date to Madam Puddifoot's Tea Shop), and new technical 3-D features added to the Harry Potter and the Forbidden Journey ride. This Harry Potter park will be just as amazing as the others, but will also have its own special features. We can't wait until April!