Cursed Child Rehearsals have Begun!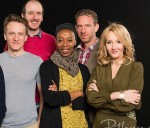 Feb 26, 2016
From the Twitter feeds of Pottermore and the Harry Potter Play, we were told that rehearsals for Harry Potter and the Cursed Child have begun! This means casting has been completed, which leaves the audience with many questions of who are the actors playing other main characters (Ginny, the kids, etc.). Even though the only actors we know for sure are the trio, The Harry Potter Play gave us our first look at the entire cast with a picture of the creators and the actors:
(Click to enlarge)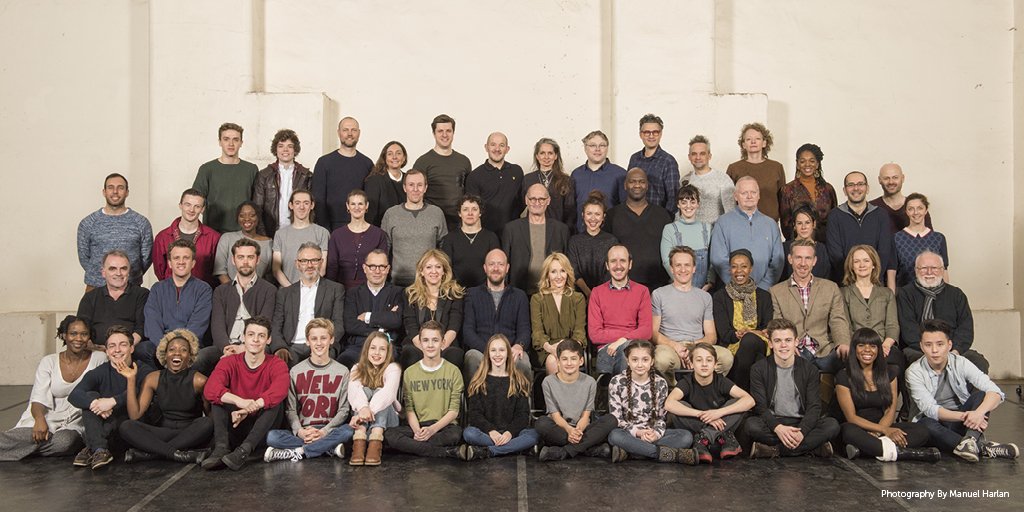 Who wants to begin guessing who is who? This is the first look we have at younger actors in the cast (and there are quite a few of them in the front row), and other adults who will be playing characters we know and love.
Pottermore also released a promo image of the Trio and the play's creators, Jack Thorne, John Tiffany, and J.K. Rowling. The website also published an article, giving us the names of the rest of the members in the cast joining the Trio, though they did not offer any information about what roles these actors will be playing…yet. As usual with Pottermore, there are surprises withheld and more to come! Pottermore reports:
"Please welcome Nicola Alexis, Helen Aluko, Jeremy Ang Jones, Rosemary Annabella, Annabel Baldwin, Jack Bennett, Paul Bentall, Anthony Boyle, Zoe Brough, Sam Clemmett, Morag Cross, Cristina Fray, Rudi Goodman, Claudia Grant, James Howard, Christiana Hutchings, Lowri James, Chris Jarman, Martin Johnston, Bili Keogh, Chipo Kureya, James Le Lacheur, Helena Lymbery, Tom Mackley, Barry McCarthy, Sandy McDade, Andrew McDonald, Adam McNamara, Poppy Miller, Tom Milligan, Jack North, Alex Price, Stuart Ramsay, Nuno Silva, Cherrelle Skeete, Esther Smith, Nathaniel Smith, Dylan Standen and Joshua Wyatt… who make up the entire cast of Harry Potter and the Cursed Child.

"Among these names are seven child actors who will alternate between roles.

"The unveiling of a brand new (not to mention huge) Harry Potter team, is a very special moment indeed…

"And, in case any of you were wondering, Pottermore will reveal who some of the new cast members will be playing very soon…"
This is very exciting news, and we cannot wait for more to come. Hopefully this first look will help fans become comfortable and familiarize themselves with the new faces of their beloved characters. Stay tuned for Leaky for more news, coming soon!