Emma Watson Interviews Tom Hanks for 'Esquire' Magazine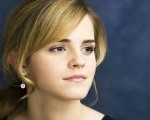 Mar 14, 2016
After being interviewed by Esquire prior to the release of the magazine's Men and Women issue for April 2016, Emma Watson has interviewed Tom Hanks (who features alongside her on the cover) on films, family and feminism.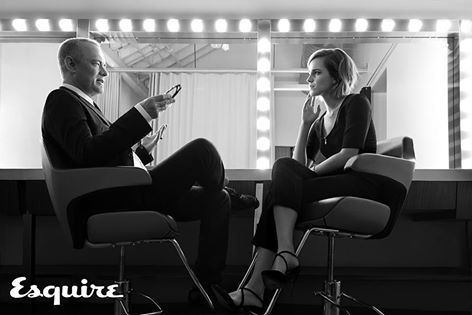 Starring in The Circle together, Hanks and Watson make a great duo, and their talk about the HeForShe campaign is enlightening and shows just how needed the campaign is.
Emma Watson: Are you a feminist?

Tom Hanks: Yes I am. We are in the Third Millennium. We have thousands of years of human history under our belts. If we are not continuously moving towards equal rights, equal opportunities and equal freedoms for every member of the human race — not just that half that is male — then we have squandered all we have learned.
On  gender equality and listening to women:
"The women I have worked with and those I seek inspiration from have had different perspectives on all there is to have an opinion on in this world, and I have always learned from listening to them. My support of those women and those in my family has been the same as it has for any man or any of my sons."
On gender binaries, sexuality, love and why inclusivity is so important:
EW: You have been very supportive of same-sex marriage. I spoke a lot in my speech to the UN about the importance of seeing gender on a spectrum instead of as binary, and being inclusive of where everyone fits on that spectrum. Would this be something you would like to speak about? Is there a connection there?

TH: Look at us human beings! Each of our fingerprints is unique. Our eyes are just as varied. Just as no two snowflakes are the same, neither are we. We are as singular as those lines and ridges on our palms and fingers. Our gender is defined the same way. We love who we love, we are passionate for those who stir us. The directions our love takes us in are infinite. Not just two boxes marked EITHER and OR.
On why he supports the HeForShe campaign (aw):
EW: Why did you agree to support the HeForShe campaign by appearing on the cover of Esquire?

TH: I find Emma Watson as fascinating as she is accomplished. Time spent with someone as dedicated and as smart as she is is time well spent. 
The final question related to Emma Watson's own interview with Esquire, and her answer about unequal treatment of women in the film industry. Hanks gives an eloquent and balanced response:
EW: You are no stranger to working with strong women. One of your most famous films, Big, was directed by Penny Marshall and you starred in A League of Their Own alongside Geena Davis, who founded the Geena Davis Institute to campaign for gender equality in film. But Hollywood is far from equal, on screen and off. Of the top films in 2013, women accounted for only 30 per cent of all speaking characters. Female characters are almost four times as likely as males to be shown in sexy attire in G-rated [family] films. Or look at the Oscars. The LA Times reports that Academy voters are 76 per cent male, 93 per cent white, with an average age of 63. Kathryn Bigelow is the only woman to win the Oscar for Best Director. No woman of colour has ever been nominated. Why does this matter?

TH: Because the art form of cinema becomes less of an art, and no longer holds the mirror up to nature when women are reduced to being only hot or nurturing. The great films make us all recognise ourselves up there on the screen, even when the characters are women from a different time and maybe speak a different language. When rules of gender and character dictate what stories are told and by whom, when women are required to be only hot or only nurturing, they no longer are full dimensional humans. That's not art, and it brings less enlightenment to the world. The economics of motion pictures makes faith in voodoo equal to those in a Vegas casino. Bets on making money are made on hunches, odd rules and track records. "Men have a certain touch with material, you can tell by the T-shirts they wear!" "Women directors play with different instincts because they often have babies!" Outliers come along much more often than are admitted. Television is a different matter. There are more women in starring roles, writing and running shows, and even in executive suites. The movies will catch up…
Read the full interview here, and read Emma Watson's interview here!