'Cursed Child' Writer Jack Thorne to Pen 'His Dark Materials' TV Series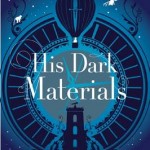 Apr 05, 2016
Fans of Phillip Pullman's book series His Dark Materials may remember the the 2007 movie adaptation of the first book, called The Golden Compass, and look back with vague disappointment at what we were given, yet a sombre sadness that the movie series was left unfinished.
Now, Phillip Pullman is teaming up with none other than Cursed Child writer Jack Thorne to pen a tv show based on the trilogy!
Hypable reports:
"It is such an honor and a privilege to be given this opportunity to delve into Philip Pullman's world," said Thorne in a statement to Deadline. "The His Dark Materials trilogy are vast and glorious books full of beautiful characters and I'm going to work as hard as I can to try and do justice to them."

"I'm delighted to welcome Jack Thorne as writer on the TV dramatization of His Dark Materials," added Philip Pullman, who will be an executive producer on the series. "Jack is a writer of formidable energy and range, and I've greatly enjoyed talking to him and learning about his plans for bringing His Dark Materials to the screen. I'm certain he'll do a superb job, and I look forward to seeing the whole project develop as he shapes the story."
The series will be aired on BBC One. Read the original article by Deadline here, reasons why TV could be the perfect format for the series at The Guardian here, and the original BBC announcement of the TV adaptation back in 2015 here.
We look forward to hearing more about Thorne's newest venture!