Katherine Waterston talks to Pottermore about her role as Tina in 'Fantastic Beasts'!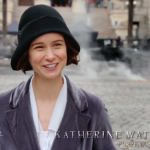 Apr 14, 2016
The ever-mysterious Pottermore Correspondent managed to sneak in an interview with Katherine Waterston, on the set of Fantastic Beasts. She 'perfectly inhabits' the character of Tina Goldstein, according to Pottermore, and we can't wait to see for ourselves the level of talent David Yates clearly saw in her:
'We were standing in the pouring rain with David Yates and I asked him about the casting process,' I [the Pottermore Correspondent] tell Katherine, wondering if she knows. 'David said he got Eddie Redmayne to read with so many actresses but he knew immediately that you were Tina. That you had such perfect chemistry and it had to be you.'

'Oh! Oh, really?' she says, genuinely incredulous and in her soft American accent. 'That's too nice. I bet he was like, "Don't tell her that, it'll go to her head!" Oh, he's such a dear man. He brings so much joy to the set, but the real thing that trickles down from the top is his faith in this process because he's been in this world before.'
Yates has also been at work on The Legend of Tarzan, and knows the Potter series well after directing the last four movies, so he is well versed in leading great actors – we're confident he's found something special in Waterston!
Katherine says that Yates has been a huge help on set, and clearly has a passion for his work and J.K. Rowling's world:
'Usually on a movie, you're going into new territory together and you're like, "Is there quicksand around the corner, are there going to be wolves attacking?" Whereas David's been here before so he's just like, "You're going to take a left here and avoid the quicksand". 

'He has a shorthand and a comfort with the world. He's not precious with it, he understands what it needs and what it doesn't need and there's something really comforting in that.'

 'When we're incorporating things that aren't actually there, to look at David and know he can see the world is… everything,'

'It's sort of like when your parents read you a book when you're a kid; if they read it with passion and curiosity, you can see the whole world.'
When asked by the Pottermore correspondent what she thinks of Rowling's world, and how she feels about the script, Katherine gives us some great insight on the film's tone. 'Tender', 'slightly English' and 'beautiful', but more interestingly, the film is reportedly 'rooted in truth':
'Ah, this movie. It's so clever and it's rooted in truth. It's got light, funny elements and then much darker, more adult elements. I normally don't respond so well to innocent lovely things, I think, "come on, let's get on with it". But there's something about this script and the way J.K. Rowling writes; it's tender without being saccharine. It never lingers on the sweet parts but maybe that's a slightly English thing: "Oh I felt something – moving on!" No, really, it's a beautiful film. It'll kill me to finish filming it.'
Read the full interview with Katherine Waterston over at Pottermore here.