Emma Thompson Breaking Laws and Baking Cakes for Greenpeace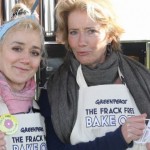 Apr 28, 2016
Oscar Award-winning actress and Harry Potter alum, Emma Thompson has become known for her activism work for Greenpeace. A few years ago, Emma Thompson made headlines when speaking out about saving the Arctic. This time around, she and her sister, Sophie, had a bake off to oppose fracking for natural gas.
Sophie and Emma (once they figured out how to work the camera) proposed their idea through a video message, which can be seen below:
When the police arrived on the scene of the peaceful protest, as Emma and Sophie were setting up shop for their bake off, Emma gave the police many details about the bake off for their police report (and possibly for a later citation). She then decided to show the police her confidence when trespassing by saying, "I'm just going to, um–I'm just going to do this," and climbing the fence. By doing so, Emma broke an injunction (court order).
Greenpeace made a charming video of the bake off. Half-way during the contest, an angry farmer decides to fertilize his field, spraying Emma and Sophie's audience with "poo." Watch below to see who wins the contest–Emma with her Wind Energy cake, or her sister Sophie with her Solar Power cake:
The BBC was on site to record the peaceful protest. They spoke with Emma and Sophie about their cause:
When the police presence stayed to monitor the event, Greenpeace wrote on their post of a video recording of the incident, "How do you stop police from arresting you if you're an Oscar winning actor? Feed them cake mix, apparently. <3" Certainly, that is one peaceful and yummy way to avoid incarceration. We would like to give that one a try, but we're not quite sure it would work with an average person who hasn't won an Oscar.
Greenpeace wrote on the baking event, saying:
For almost five years, Lancashire has been in the midst of a battle to stop the shale gas industry. And despite huge local opposition, fracking firm Cuadrilla is determined to set up its rigs and drill.

In August 2014, twenty-or-so anti-fracking nanas occupied the same fields I'm in now – land just outside of Blackpool where Cuadrilla wants to drill – and established cake as an anti-fracking weapon of choice.

…

Their hard work paid off too. Because in June last year, Lancashire council leaders listened to the concerns of local people and said a resounding no to the shale gas industry.

But this victory was short lived. Just a few months later it was revealed that Greg Clark, the government's so-called 'minister for communities', can now overrule local councils, which could pave the way for Cuadrilla and its rigs.

So today time we've returned – again armed with cake – to the site where Cuadrilla is desperate for the UK's dash for shale gas to begin. But this time we're doing a (yes, the dreaded c-word) celebrity bake off, with actress and former champion of Celebrity Master Chef Sophie Thompson, and me – Sophie's sister.

We're breaking Cuadrilla's injunction – the special legal block they took out to protestors off their land – for our Frack Free Bake Off. No doubt there'll be kitchen equipment and flour everywhere. But we'll pack everything up carefully, taking care not leave behind any litter, drilling rigs, toxic fracking fluid or unwanted pollution.
More information from Greenpeace about the event can be read here.