Writers, Cast, and Crew Discuss 'Cursed Child' Journey to the Stage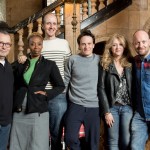 Jun 08, 2016
Last week, Jack Thorne and John Tiffany–both co-writers of Harry Potter and the Cursed Child alongside J.K. Rowling–sat down with producers, actors, and other major forces in the play's production for a roundtable discussion. The participants talked about the story's conception, the decision to tell the story in play format, and–naturally–the difficulty of avoiding spoilers.
Colin Callender, one of the Cursed Child producers, says of the play's journey:
"None of us, all quite experienced in the theater world, have ever experienced anything of this magnitude and intensity before."
On playing such a beloved character, actress Noma Dumezweni (Hermione) says:
"The weight of expectation is huge. But for me that pressure has been outweighed by getting text messages from mums I know saying how huge it is for their mixed-race daughters that I am playing Hermione. Ultimately it's a theater piece, I'm a theater actor and doing a job as best I can."
Public previews of Harry Potter and the Cursed Child began yesterday, June 7, at the Palace Theatre in London. The play officially opens on June 30.
Read the full interview at NY Times.