Happy Birthday to Matt Lewis and Dobby!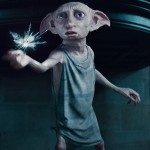 Jun 28, 2016
Today we'd like to wish a very happy (belated) birthday to Matthew Lewis (Neville Longbottom), who turned 27 yesterday! Matt–one of the most recent Potter stars to join the Hufflepuff ranks–stars in the new film Me Before You, based on the novel by Jojo Moyes, currently in theaters.
We'd also like to honor our favorite house-elf, Dobby! This "free elf" paved the way for house-elves everywhere with his paid position at Hogwarts and progressive view of house-elf freedom. Though initially somewhat misguided in his attempts to help Harry and his friends, Dobby proved to be a loyal friend and an integral part in the escape from Malfoy Manor in Harry Potter and the Deathly Hallows.