Matthew Lewis is…a Hufflepuff!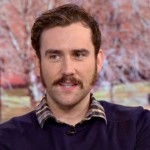 Jun 02, 2016
Fair or not, the sorting quiz created by Pottermore is nothing if not in depth in an odd sort of way. Matthew Lewis who marvelously portrayed the often clumsy, but always-there-when-you-needed-him, Neville Longbottom, a Gryffindor, took J.K. Rowling's sorting quiz today.
Watch as he gets a taste of this first hand when he sat down with Pottermore recently to discover his house. Unlike yesterday's Bonnie Wright video, or Mondays Rupert Grint interview, this was less of a question and answer and more of a let's just watch Matthew Lewis neurotically answer these questions.
It does seem, however that as more of the younger cast sits down to be sorted, the Hufflepuff's have grabbed themselves some real big names. Gone, it would seem, are the days of Cedric Diggory being the best Hufflepuff.
Could the Hufflepuffs take one more star tomorrow? Be sure to check in and see if Evanna Lynch gets to follow Luna in the Ravenclaw house.