Tom Felton Joins The CW's "The Flash" as Series Regular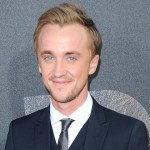 Jun 30, 2016
TvLine has exclusively revealed that Tom Felton is joining the third season of The CW's superhero series The Flash as a series regular.
According to TVLine Felton will play a Central City Police Department crime scene investigator (CSI) called Julian Dorn who suspects "that here's more to Barry Allen than just his good guy reputation."
It was confirmed last week by TVLine that the third season of The Flash will focus on DC Comics's famous Flashpoint storyline. In order to avoid spoilers, we will not publish details about the Flashpoint storyline here, but in case you are interested, you can find more details from this article by E! News. The official press release for The Flash season 3 panel at the 2016 San Diego Comic-Con reads (spoilers edited out from the original release):
"Parallel universes…and doppelgangers…and man-sharks, oh my! The second season of The CW's highest-rated series had more than its fair share of twists and turns…But fear not, fans, you won't have to wait until the fall to start getting answers to some of your most pressing questions, as the cast and creative team behind the show make their annual appearance at Comic-Con to begin giving fans insight into the show's highly anticipated third season."
Since both the first trailer for The Flash and the first look of season 2 were both revealed at previous San Diego Comic Cons, it is highly expected that the panel for season 3 will provide the fans with a first look to the upcoming third season.
According to TVLine, Felton is expected to make his debut on The Flash early during season 3, which is set to premiere on the CW on Tuesday October 4th at 8/7c.