Sam Clemmett on Albus and Harry's Relationship in 'Cursed Child'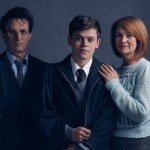 Jul 01, 2016
Being the son of The Boy Who Lived isn't always easy according to Sam Clemmett, the actor portraying Albus Potter in Harry Potter and the Cursed Child. Clemmett goes as far as to describe the relationship between Harry and his middle child as "fractious", and being that Harry Potter is as famous in the Wizarding World as he is in ours, it's not hard to see why.
Of the father-son relationship, Clemmett says:
"There are issues. It's like having a massive celebrity figure as a dad. People react to you in different ways whether you want that attention or not. Whether you are able to live up to that person or not, it affects your self-esteem."
Clemmett also joins a number of other Potter alumni in defending the casting of Noma Dumezweni as Hermione in Cursed Child–a decision that has been the topic of much discussion as of late.
"The films have painted a picture of the Harry Potter world and it is hard to put that aside. But JK Rowling never specified ethnicity in the books. Noma is a brilliant Hermione and does a wonderful job and tells the story beautifully — and that is all that matters."
Sam Clemmett and the rest of the cast of Harry Potter and the Cursed Child continue to charm audiences at the Palace Theatre. For those of you who have seen the play, we ask that you please remember to #KeeptheSecrets in the comments!