Katherine Waterston and Alison Sudol on Portraying the Goldstein Sisters in 'Fantastic Beasts'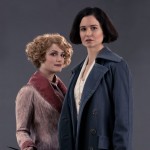 Jul 02, 2016
Katherine Waterston and Alison Sudol feature in Fantastic Beasts as sisters, Tina and Queenie Goldstein. The Pottermore Correpondent caught up with them to ask about their auditions, and how they manage to portray the bond between the sisters so well.
According to Pottermore, Katherine Waterston and Alison Sudol were cast as the Goldstein sisters after Eddie Redmayne had been cast as Newt, and David Yates was looking for two actresses with a 'very specific type of chemistry'. Alison Sudol describes the moment they showed that they were the right fit:
'We were introduced and it was kind of like, "Okay Katherine, this is Alison. Alison, this is Katherine. Why don't you have a seat on that couch and be sisters?" We were both like, "Right, okay!"'
'And so I [Alison] sat down and something happened: I just looked at Katherine's face and felt incredibly empathetic towards her. In this scene, she – Tina – was suffering and I could see that. I started playing with her hair, and plaiting her hair, and it was a really emotional moment for both of us.'
But, according to Katherine, it wasn't the first time she'd seen Alison act:
'The truth is that I saw Alison in a scene first. I got to watch her work a little bit before we did the improvisation, so I already knew she was a really good actor,' Katherine says.
'So I went into the improvisation knowing I was with someone who would be able to hold up their side of the bargain. With things like that when you're nervous and you're auditioning, to know you can trust your partner gives you confidence you might not otherwise have in that situation. 
'I think that made a big difference."
J.K. Rowling's focus on family, love and relationships in the Harry Potter series has continued to be a prominent theme in Harry Potter and the Cursed Child, and it seems we'll get to see another side to this in the sisterly relationship between Tina and Queenie in Fantastic Beasts.
Katherine Waterston says that being a sister makes the role slightly easier to play naturally, given that she knows all the quirks of such a close bond:
'I have a whole life's history of that feeling of being a sister. That's really what it comes down to with acting like this: it's trust and love. We both felt that connection on the first day, Alison and I. But also, I've got a sister. I am a sister, so it wasn't tricky to call on that. Sometimes my sister and I have come downstairs wearing the same outfit or we've called our mom at exactly the same time. There's something witchy about being sisters anyway, don't you think?'
Read the full article here!
If you haven't seen it already, catch the sisters in the Fantastic Beasts trailer here, and read an interview with Katherine Waterston on working with David Yates here.