Take a Closer Look at the Set of Cursed Child!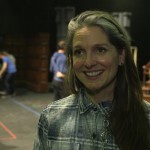 Jul 09, 2016
Pottermore are going behind the scenes of Harry Potter in the Cursed Child in the coming weeks, to learn more about how the unique set design of the play was constructed.
Tony Award-winning set designer Christine Jones (Close to You, Spring Awakening and Let the Right One In)  introduces the Pottermore series by talking about bringing the set together in an exclusive video.
Take a closer look at the unique set design Christine Jones created for #CursedChild: https://t.co/otXXZAgWK1 pic.twitter.com/ORx14mrNgc

— Pottermore (@pottermore) July 8, 2016
Pottermore reports:
'I was overwhelmed,' Christine told us. 'I didn't expect to get as emotional as I did. But I think we all have been working on this for over a year and just have so much invested in it.'
'There's just this feeling that we're working with people we love, on something we love, for people we love. And there's a lot of emotions that have become buried within the fabric on the making of this.'
This video of the props and sets involved in the Cursed Child production is slow moving and close-up, showing the intricate craftsmanship behind the immaculate set.
Be sure to take a look at the short preview (below), as it makes one appreciate just how many people are needed to make such a beautiful play come to life!
Read more over at Pottermore here, and read more from Christine Jones on set design here!