New "Fantastic Beasts" Interview with David Yates, More from SDCC 2016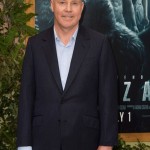 Jul 23, 2016
David Yates sat down with the Los Angeles Times to talk about his first Comic-Con experience (San Diego is hosting this years International Comic Con this weekend) and Fantastic Beasts.
David Yates, David Heyman, and most of the Fantastic Beasts cast are taking San Diego and the 2016 International Comic Con by storm. As a part of Warner Bros most anticipated fall film release, many eyes are on the magical events and activities Fantastic Beasts is hosting at SDCC 2016.
For those of you who have never been to a Comic Con, it is quite an experience–and David Yates is learning this too. Yates is enjoying his first Comic Con, a little sad he's missed out on other opportunities like this. The LA Times reports on his experience at SDCC and taking the Potter Universe into new, unchartered territory with the more adult Fantastic Beasts films.
It's kind of hard to believe that you've never been to Comic-Con before.

I have so missed that opportunity because everyone — actors, directors, producers — they always tell me what an amazing experience it is. We were always in the thick of one of the "Potter" movies, so I was never able to make the trip. I'm really looking forward to it. It's such a sort of touchstone of what's ticking in popular culture. I'm really thrilled. 

The Potter books and the movies got more mature as the characters got older. "Fantastic Beasts" looks like it's the continuation of that.

"Beasts" hasn't got any kids in it. Well, it's actually got one lovely kid called Faith [Wood-Blagrove], who plays a character called Modesty, but generally it's a film with grown-ups. So it's a more adult development of what Jo has done before but still with lots of magic, still with lots of fun. It's the best of both worlds, I think.

I think that what's interesting is it speaks to Jo's curiosity about the world and her observation of the world that we see around us. It speaks to themes that are important now, as well as all the lovely magical stuff and her genius for character. Even though it's set in New York in 1926, she's interested in themes that resonate now about a divided world and a polarized world and how important it is to recognize otherness and embrace it and not to be afraid of it. That's always been an aspect of her work, and it becomes more so now.

For all the kids who grew up watching these films — and as I grow old making some of these films — and for everyone who loved the books and grew up with them, I think this will feel like a really interesting return to her universe.

This is the first time people will go into a movie set in that universe and not have a sense of what the characters look like or where the story will go. How do you approach that as a filmmaker?

In a way, it's quite liberating. Coming at it from a completely blank canvas, to me, is an advantage. People aren't bringing any sort of baggage with them.

There aren't bits that are going to be left out. There isn't the same frustration that can happen if a favorite chapter has been left out of the movie. This is a story from Jo's imagination, and people are going to hear it first in the theater. And I think that is tremendously exciting.

The entire interview can be read here.
Fantastic Beasts' official Facebook page and Twitter is promising more chances to view and be a part of Fantastic Beast SDCC 2016 events. After today's open Q&A at 5:30 pm EST, which Leaky will be attending, Fantastic Beasts' Facebook page will continue live coverage of the panel and cast discussion. See below:
Can't make it to #SDCC2016? See the magic of the #FantasticBeasts cast at 10:10pm on our Facebook page! pic.twitter.com/2PsTdh9yIG

— Fantastic Beasts (@BeastsMovieUK) July 23, 2016