The Leaky Cauldron at the 'Fantastic Beasts' Q&A Event at San Diego Comic-Con!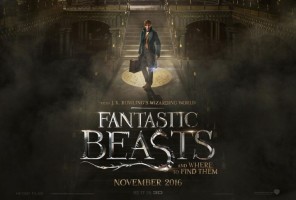 Jul 23, 2016
We have been covering the unveilings of exclusive material at San Diego Comic Con's Fantastic Beasts panel – first a trailer, and now an exclusive Q&A event with the cast – featuring a question from Leaky!
We're live now with the cast of #FantasticBeasts and the NEW TRAILER. #SDCC2016 pic.twitter.com/g1sBRhAGiu

— Fantastic Beasts (@FantasticBeasts) July 23, 2016
We're live at #SDCC2016 with the cast of #FantasticBeasts. Follow us on Snapchat for more magic. – Wizarding_World pic.twitter.com/ufAIlK4r9w

— Fantastic Beasts (@FantasticBeasts) July 23, 2016
Present at the event were: Director David Yates, Producer David Heyman, Ezra Miller (Credence), Collin Farrell (Percival Graves), Eddie Redmayne (Newt Scamander), Katherine Waterston (Tina Goldstein), Dan Fogler (Jacob Kowalski) and Alison Sudol (Queenie Goldstein).
In the U.K., fans (and Leaky) were in the Great Hall at Leavesden Studios to take part in the live stream Q&A, where Fantastic Beasts costumes and props were being flaunted – unfortunately only for this exclusive event. Georgia and Gemma represented Leaky in London, so keep posted for more updates on this!
Carianne and Tabitha attended Comic-Con in San Diego on behalf of The Leaky Cauldron, Carianne managed to ask what Eddie, Katherine, Dan and Alison's favourite parts about the wizarding world are:
Alison answered "Anything is possible, and also that it's a beautiful world, it's close enough to our world that it feels real and yet the possibilities and just the wonder of it, on just the tiniest little details how magic is sort of workaday in the world is just constantly inspiring" 
Katherine says "I think the idea of a parallel universe is just something I think we can all relate to. Of course children have that sense and we kind of grow up and we are kind of bred out or encouraged to stop thinking that way and stop seeing  the beauty and the possibility and the magic around us, and to consider it in this much more literal way that there could be a simultaneous world happening around us that we might not be conscious of, that we might be able to notice if you tune into it or look for it … I love that idea" 
Presenter Edith Bowman asked what it was like in San Diego when the brand new trailer was shown to audiences, and Eddie Redmayne jumped straight in with his answer, clearly excited to be at such a huge event:
"You hear so much about Comic-Con, the moment you actually walk on stage, it's like no sensory experience you can possibly imagine – it's so overwhelming, but so exciting"
According to Redmayne, there were people dressed as Newt Scamander in the audience!
Ezra Miller's character has been kept closely under wraps (he does, however, feature in the new Fantastic Beasts poster), so his answer was understandably more discrete:
"I can't tell you my favourite scene" he says, but said his favourite thing about working on the film was working with Collin Farrell, Eddie Redmayne and Samantha Morton (Mary Lou).
Alison Sudol says she is a "big Harry Potter fan" so is obviously excited to be promoting Fantastic Beasts at such a great event. "You can't help but feel like a kid" she says, "It is magical, it's magical to be a part of this world and to have a continuation of the universe that we all fell in love with, but it's something new, something different" 
Dan Fogler is a loyal Comic-Con fan, who says he's been attending the event for probably the past 15 years, and compares the excitement of attending 2016's event to 2015:
"Last year I didn't have much going on … then I got the call from my agent saying you know, 'Next Comic-Con's gonna be a lot different', and they were right." 
Pottermore asked the first time Eddie Redmayne learned to use a wand, which apparently happened in what turned out to be a slightly awkward experience during screen tests for the film:
"I remember David said very kindly 'Ed, just choose a wand' and I was like *HUGE GASP*. What was extraordinary was that your inner 9-year-old has waited for this moment all your life, and I picked the thing up, and I got complete stage fright. I had no idea what to do with it – it looked really odd in my hand so in the end I actually went back and looked at some of the Harry Potter films and looked at Dan and Emma and Rupert's work and thieved an idea or two!"
Alison Sudol echoed this 'stage fright', saying that she was also concerned about whether the wand was actually magic, but that after the initial shock is over with "it becomes quite addictive" – apparently she'd found herself actually walking around at home with a wand!
Katherine Waterston said that the muscles involved in wand work were a surprise for her, saying she got a case of 'wand elbow'.
SnitchSeeker then asked Eddie Redmayne what makes Newt Scamander a true Hufflepuff. Eddie said he'd recently taken the Pottermore sorting test:
"I'd been holding off doing it for an age because I couldn't believe it would actually work, and I was sorted into Hufflepuff and it was the most exciting moment of my life"
"It's his heart – he's a complicated, knotty, at moments spiky character, but he has a wonderful heart and a passion for his creatures, and I suppose it's those qualities which I associated with a Hufflepuff"
You can view the trailer and the full Q&A in the video on the Fantastic Beasts below, and check out our break-down of the trailer here!
Thank you to Carianne for asking Leaky's question, and to Alison Sudol and Katherine Waterston for answering it! Many thanks to Tabitha, who joined Carianne and represented Leaky at SDCC 2016, and Gemma and Georgia, who joined the festivities at Leavesden Studios in London on Leaky's behalf–thank you!!!