Movement Director Steven Hoggett Talks 'Cursed Child' Choreography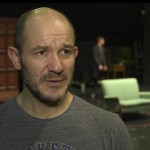 Aug 09, 2016
When it comes to the choreography for Harry Potter and the Cursed Child, there's a lot more involved than a little wand waving. Steven Hoggett–an Olivier-Award winning movement director with more than ten years experience choreographing theatre–had to make magic of his own with the help of the Cursed Child cast.
According to Steven, many of the actors are required to take on numerous responsibilities, meaning that everyone stays very active–and has to be in pretty great shape to keep up.
Of the rigors of the performance, Steven said:
"We're not relying on big technological wizardry, so there's a lot of work where the company are very hands on. There's things they'll never be given credit for, and it requires tons of energy and tons of stamina."
Watch the video below for a behind-the-scenes glimpse of the cast performing Steven's choreography.
Read more at Pottermore.