How Anthony Boyle Fell in Love with the Role of Scorpius Malfoy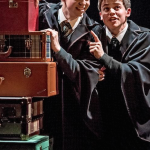 Aug 29, 2016
Whether or not you liked Harry Potter and the Cursed Child. it can almost unanimously be decided that the character of Scorpius Malfoy is pretty great. As many of staff say, he is a cinnamon bun to precious for this world. The role of Scorpius Malfoy was trusted to Anthony Boyle for the Harry Potter stories' stage debut. Anthony Boyle recently spoke with UK's The Times about falling in love with the role and his break out performance.
The Time's wrote of Anthony Boyle big break, saying:

He's the twitchy, ice-blond offspring of nasty Draco Malfoy, Harry Potter's arch enemy at Hogwarts. And for Anthony Boyle, the actor playing Scorpius Malfoy on stage at the Palace Theatre in London, he represents the biggest break the 22-year-old newcomer could have imagined.

One of the show's biggest and best surprises, and one we can feel free to shout about without fear of being branded a Wormtail, is Boyle's exceptional performance. If the films of JK Rowling's books made a star of Daniel Radcliffe, then the stage show, co-written by Rowling and Jack Thorne and directed by John Tiffany, seems certain to do the same for Boyle. As the awkward, unlikely best friend of Sam Clemmett's teenage Albus Potter — whose dad, Harry, is now a harassed employee at the Ministry of Magic — he's attracting the kind of attention for which many actors wait their whole careers.
Similarly to the Potter film's trio, Anthony is experiencing the great joy and the fearsome pressure of being in the center of the Harry Potter franchise. The Time's writes:
Boyle, however, insists that he's doing his best to avoid the glowing notices. "My dad rings every day, going, 'Hey, have you heard what they're saying about you?' But I'm trying to stay away from it." He smiles shyly. "I don't know if it's good for you."

Fans gather by the hundred at stage door after every performance. "It's a bit mental. All those people out there screaming and stuff. But I'm taking it all in my stride. It's brilliant that people love the play, they love Harry Potter and the world and the characters that we're playing. But I don't feel like I'm Lindsay Lohan or someone." He does sometimes get stopped in the street now. "Scorpius is so different from the way I look and talk and behave, so it doesn't happen too often. But I'll always sign an autograph if I'm asked. It's nice."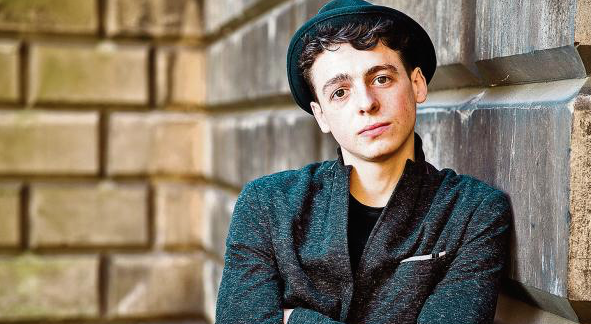 Like so many readers and theater goers, Anthony fell in love with the character of Scorpius. He told The Times about his first encounter with the role, and how he worked to bring Scorpius to life:
After initial meetings at which he was asked to perform extracts from the Harry Potter film scripts, he was shown Rowling and Thorne's new stage play — in a room guarded by security staAnd the moment he encountered Scorpius, it was, he says, love at first sight. "I just couldn't turn the pages quick enough; I got so emotionally attached to the character so quickly. He's such a gorgeous boy, he has so much heart, d'ye know?" 

"I was up for bleaching my own hair, but they told me I'd be bald within a matter of weeks." His natural locks are dark and wavy, and although he's slender, he's much more buff than the skinny, spidery figure he cuts on stage. It's a transformation he relishes, and when he talks about Scorpius, his body seems to alter shape. "I love putting it all together — the wig, the odd, constricting trousers, the clunky shoes. You can feel yourself changing. But [he laughs] it all comes off again with the costume. I don't take it home with me, I learnt at drama school not to be That Guy. I think it would make me unbearable to work with."

It has stood him in good stead for Scorpius, whose pinched, higher-pitched tones are the result of some careful research. "I played about with the voice a lot. I remember seeing this very posh English boy on the Tube with his mother. I was fascinated, so I moved and sat near him so I could listen. And I watched documentaries about young boys at Eton and other posh, private schools, and became familiar with that tone, the resonance, the way they inflect."
Now a fully immersed into the world of theater, Anthony has been star-struck by many people he has had the opportunity to meet. Even before becoming involved with the Harry Potter play, he worked with a Harry Potter actor (ironically, Wormtail's Timothy Spall) on a film:
Pre-Potter, he found time to get a couple of political film dramas under his belt: The Party, a hard-hitting short by Andrea Harkin set in Belfast at the height of the Troubles, and The Journey, due for release this year — Nick Hamm's movie about the relationship between Ian Paisley (played by Timothy Spall) and Martin McGuinness (Colm Meaney). Boyle plays the young Paisley — just a day's filming, but he got to bond with Spall in the make-up trailer.
For those fans who would like to read more into Scorpius and Albus's close friendship, Anthony laughs:
The idea amuses Boyle, though he's quick to dismiss it. "The friendship's purely platonic," he laughs. "I do think they love one another — that's evident in what they do and say. But it's not a sexual or romantic love."
To read more about Anthony Boyle and how he came into acting, read The Time's original article here.