J.K. Rowling Confirms Cormoran Strike Book 4 in 2017, and TV Series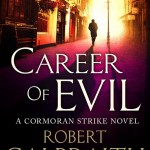 Sep 06, 2016
Last week, as reported on Leaky, J.K. Rowling confirmed that she was working on the fourth Cormoran Strike mystery novel. However, with all of her projects, we speculated that Strike might not make an appearance this year, unlike the last three consecutive years. Today on Twitter, J.K. Rowling confirmed that Strike will come back into our lives in 2017. We Harry Potter fans can only blame all the new Harry Potter-world content released this year–namely Cursed Child and Fantastic Beasts.
J.K. Rowling tweeted earlier in the day, which now seems to be deleted, saying, "@jk_rowling: No novels this year, because of Cursed Child & Fantastic Beasts screenplays! https://t.co/QVDTEGVJ0O/s/0MWJ"
When asked when, she promised that they were on their way. It's safe to say we'll be seeing Robin and Strike in 2017.
They're on their way, I promise x https://t.co/f7T6lU17Ut

— J.K. Rowling (@jk_rowling) September 6, 2016

As for that Cormoran Strike Mysteries TV mini series that seems to have been forgotten about…it got a mention from J.K. Rowling as well! As Leaky reported a few days ago, it is rumored that Tom Burke has been cast as Strike. J.K. Rowling did not confirm this, but said information about the cast should be coming soon…
It is going to be a thing. A good thing, I believe. https://t.co/OVdX0vLTzv

— J.K. Rowling (@jk_rowling) September 6, 2016
@NimboGlow1018 soon!

— J.K. Rowling (@jk_rowling) September 6, 2016
In the meantime…J.K. Rowling messed with her Twitter bio, flippantly answering 8 FAQs on her Twitter. When Twitter exploded, she quickly changed her bio to "Never, ever be flippant in your Twitter bio. No good can come of it."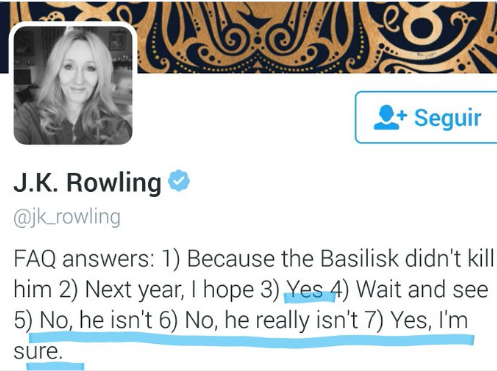 People are speculating that 5, 6, and 7 are affirmation that Sirius is *not* gay, and 3 means that Sirius is still alive somewhere. She seems to have denied this. With all the love and hate that ruptured, no one is quite sure what she meant by these answers. If you'd like to venture over to her Twitter to figure it out, we dare you and good luck.
@hoImesnwatson I would have thought it was kind of obvious if you look back over my timeline.

— J.K. Rowling (@jk_rowling) September 6, 2016