Leaky's "Fantastic Beasts" Set Report: Talking to Eddie Redmayne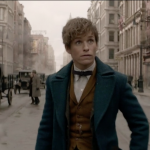 Sep 12, 2016
No one minds waiting on Eddie Redmayne—he's an Oscar award winning actor (The Theory of Everything), and a genuinely nice guy. Like Rupert Grint, when Eddie walks into the room he wants to make sure you're comfortable and happy. He is the best kind of people pleaser—humble, kind and shy. It's easy to blur the line between the character of Newt Scamander and Eddie Redmayne—both would make great Hufflepuffs!
Eddie strolls in, suited up in that fabulous blue pea coat, Starbucks cup in hand and trailed by a team of people. He is tall and lanky, a shy smile matches the way he carries his thin stature. He greets everyone with a "Hey, guys!"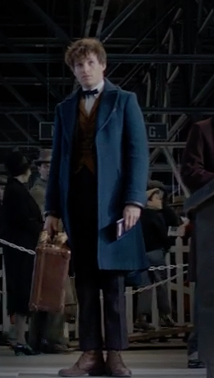 Having just read Pottermore's piece on that fabulous blue coat, I couldn't help but greet him back with, "I love that great coat you're wearing, and it matches your wand!"
Eddie smiles and says thanks. Flicking his wand, he asks if I would like to see it, and then hands me his wand to pass around the table. What does one do when Eddie Redmayne hands you Newt's wand? Freak out on the inside, and remain calm, cool, and collected on the outside.
I turned the wand over in my hand several times to get a good feel for it. Its beauty is in its natural subtlety. It is perfect for a magical zoologist. The wand isn't too long, not too short; plain wood with black scaring and marking that melts into a light brown, cream and reddish marble handle. For more details on Newt's Wand that have been released by EW and Pottermore, read here. Newt's wand will eventually be widely available to fans through Nobel Collection, read here.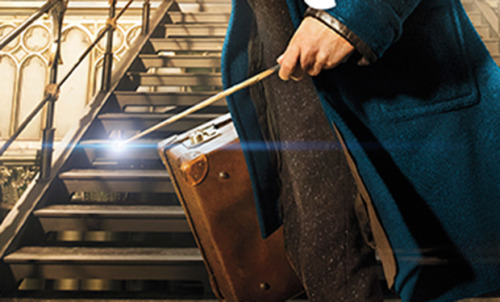 Eddie asks if the seat we tipped over was reserved for him. Upon receiving several smiles and nods, he settles himself at the round table as if he's one of us. As the questions begin, it becomes apparent that Eddie is one of the easiest people to talk to. If we had Starbucks too, it would feel like a coffee date, sitting down and chatting with an old friend, asking how their latest project at work is going.
QUESTION

Are we allowed to know what your core is?

EDDIE REDMAYNE

Well, no. No. We're not unfortunately, but it was one of the most exciting things about getting this job was very tight teams of artists. I did a few months prep for it and you have to hold discussions about your character and what sort of wand you think might be appropriate. Then this amazing array of drawings arrives. And you get to pick one. See, it was quite an extraordinary thing.
With any actor entering the wizarding world of Harry Potter, we wanted to know when working on Fantastic Beasts first felt magical for the leading man. Eddie explained that his first real "moments" sunk in when he was in the audition room, having already been cast as Newt and looking for chemistry with actors and actresses auditioning to be apart of the new quartet of heroes. When they began filming, he couldn't help but have a similar moment when entering the MACUSA set for the first time.
QUESTION

Would you say, maybe getting your wand is one of them, but when was the moment when you had the "Wow, I really joined this whole world and what it all encompasses?"

EDDIE REDMAYNE

Well, oh, God– When was that moment? You know what it was? I have been cast in the film and we went to New York and was auditioning with actors who were playing some of the other parts and in the audition room, I was presented with not only a wand, but, like, that sort of prop, paper, of kind of extraordinary writings, all in completely authentic magic world stuff, and I was like… <pants> Watching the other actors come in as well and just because having had my own experience of being given the wand to me like, "Okay, yeah!" You know, and then watching them all do the same as well, it instantly released an inner kind of ten year old in everyone. That probably was the first one.

But I think on set here, when we shot in MACUSA …which I don't know if you guys have ever shot around in there? Colleen had done such a staggering job with the costumes. There were extras everywhere with this kind of nineteen twenties, sort of witchy vibe. And what's amazing about the scale of the production is we come on to sort of rehearse and already there are background artists doing their– And little kids being taken to be shown the Salem witches and everyone in their little outfits and it was all encompassing. That was an amazing moment, too.
When preparing for his role as the Wizarding World's leading magical zoologist, Eddie readily stated that he had been watching the Harry Potter movies and rereading the books–referencing them for familiarity with the world, pronouncing J.K. Rowling's made up words and spells, and wand movements and gestures. He was searching for continuity, especially with his wand work.
QUESTION

Even though this is a new story, was there any certain Harry Potter book or movie or even character that you looked back to, to prepare for this role that you were inspired by?

EDDIE REDMAYNE

No, I didn't. There wasn't a specific character. I mean, I tried to– There's this weird thing that we're all aware of the legacy and the heritage of these amazing worlds. But at the same point, you want to start afresh in some ways, and what makes that easier is it starts before those films. And while certainly there were things like some of the spells, I tried to cut together all these different spells and how they'd been used and watching different actors, how they use their wand to try and get a sense of what other people's choices have been and to create a continuity perhaps, in some ways. But as far as the character was concerned, I felt like I had a whole blank page to start on.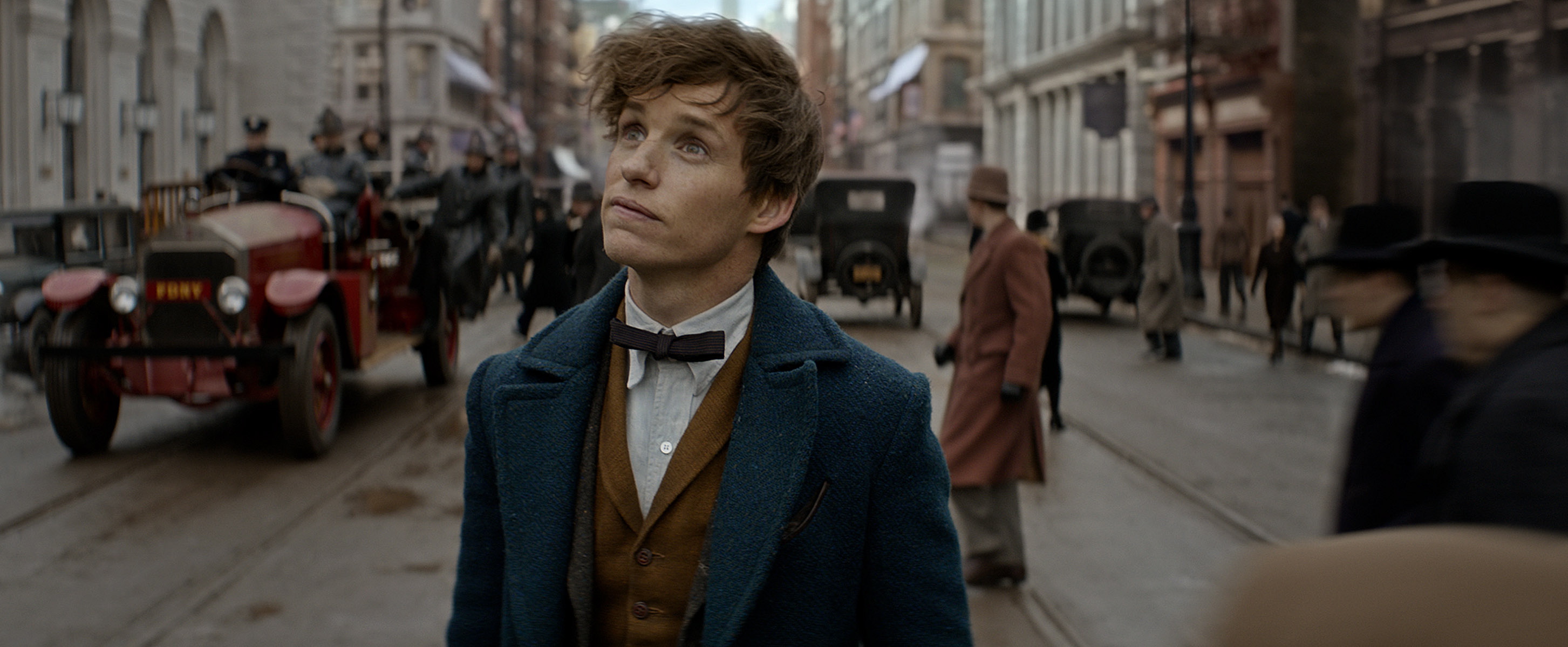 When I asked about his personal experiences, growing up with Harry Potter in the past, Eddie told us how he used to go to the movies and get lost in the world of their magic.
QUESTION

All of us, well, me particularly, I don't know 'bout everyone here, have grown up with the Harry Potter series. I was four when the [first book] originally came out, and I wrote a letter to my primary school teacher saying that I was transferring to Hogwarts and it was nice meeting her but see you later. I know you were a teenager when it first came out but did you have any personal connection to the series growing up with it?

EDDIE REDMAYNE

Other than I was just a fan really. I read the books and I then started watching the films and it was just like the most wonderful escapism. Like every year or two, you got to go and sort of dive into this world and J.K. Rowling's capacity to kind of, really sort of– Her stories straddle genres in the most amazing way. One of the most spectacular things to me about the script was, it was a thriller then it was adventure, then it was– I mean, Dan Fogler, I don't know if you've met Dan yet, but hilarious, you know. And just– and then it's the prop- and then at the end of the script I was… (chuckles) I was actually doing a bit of that and I was like, "Oh, my God! How can all of this be like sort of woven into one story that takes place over a couple of days?" And yet, somehow she manages to do that. When the films would come out, I'd just look forward to it so much that– Coupled with the fact that there was sort of an entire family of gingers (chuckles) and I never got an audition for it. I was sort of bereft. When I (laughing) heard they were making more– a new film, I was like, "Please, can I be a part of, which I knew I was, yeah."
As for his character, Eddie had a completely blank slate. There are no books written about Newt Scamander, but he was awe struck as to how J.K. Rowling had the whole world in her head.
When it comes to building the Wizarding world, and being a key role and a new comer, Eddie admitted that having David Yates to work with was wonderful and a comfort. Like J.K. Rowling, the four-time Harry Potter director "sees everything," from background to personal characteristics.
QUESTION

How much information besides the script, if any, did you get on your character, on his background, on what's in his future?

EDDIE REDMAYNE

I got to meet J.K. Rowling so I had about three or four months prepping the film. And just about a month I think before we started filming, I was here in Leavesden and J.K. Rowling came and it was this sort of brilliant or slightly odd moment in which David Yates sort of introduced her and I knew that she was only gonna be here for an hour and I think I was sort like, "Hello, nice to meet you!" And just basically grilled her for an hour she came to set the other day and I was like, "I am so sorry." But it was so phenomenal. She's so passionate about her characters and she has such a sense of their whole three-dimensional world and their history. I don't know whether it's just a paranoia from having recently having played people that lived or living and sort of having all this world of research that you can go and do. But what's great about Newt is you can just go to J.K. Rowling and she gives it all.

QUESTION

What's it been like, working with David Yates as a filmmaker?

EDDIE REDMAYNE

Wonderful. When I first met him about six, maybe seven months before I got cast in the film. He's the most kind, gentle human being. There are so many departments that he is juggling of extraordinary sort of artists designing the animals and then coming and delivering them to David and him commenting, giving notes, going back and whole previs treatments, whole scenes that have to– You can't just spontaneously turn up on the day and go, "How should we do this?" Because there are so many elements that have to have already been considered. His capacity to sort of helm this gigantic, sort of huge liner, basically cruise liner in some ways, and yet at the same time, in and amongst all of that, that to be able to see and just be so specific with performance. I mean, he is– I remember Ray Fiennes saying before I started it. He's like "David sees everything." And he really, really does and it's wonderful for us 'cause you might think that a director having to deal with so many moving parts would be so focused on the performance side. So he's really been a wonder to work with.

QUESTION

What was something that when you were talking to J.K. about the character that maybe she told you that you either hadn't considered or was a surprise to you?

EDDIE REDMAYNE

I suppose, his background and where the thoughts for the character had come from. They're all quite personal to her and that was sort of lovely. And, but also, what was wonderful was to be able to share some of the stuff that I've done of meeting people who have trackers or people who work with animals and zoologists and seeing some of these guys who literally– A tiger cub is born and they sleep with them for the first five– And then they will go into the cages and all these extraordinary stories of gorillas who've grown up with humans and then go back into the wild and this guy, Damian Aspinall, has this amazing YouTube video of him going back to and calling for her and the gorilla coming up and then sort of nestling in with each other and this sort of weird mixture of human behavior and animal behavior. What's wonderful about J.K. Rowling and David is that they also really enjoy collaboration, like you can come with ideas and throw stuff in.
In the Fantastic Beasts films, fans are introduced to a new side of the Wizarding World of Harry Potter. Not only is it set in the 1920's, but it is set in America. For Eddie Redmayne, he said his character of Newt has to become accustom to American magic just as fans do. As a magizoologist, Newt had spent a lot of time on his own, and came to America and was overwhelmed by how huge and bustling New York City was.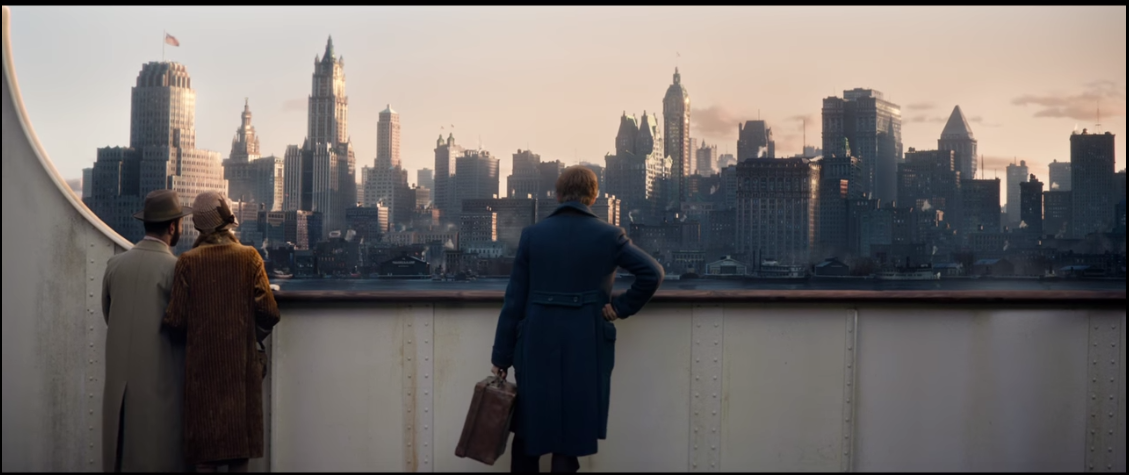 QUESTION

A lot of people are really excited to finally get to see some American wizardry…

EDDIE REDMAYNE

Yeah.

QUESTION

… So, now that you've had a chance to kind of be in the world a bit, does it feel American? Like, I'm sure, you know, when we come here, there's certain things that seem very British.

EDDIE REDMAYNE

Yeah, well, it does, yeah. Well, I know there's all this sort of ruckus over the sort of the No-Maj side of things. I was doing press at the time, so I took quite a hit. I was like, "Guys, don't worry, the word muggle is in the film." It's different sort of lost in translation. But there are, again, J.K. Rowling has this amazing thing of really grounding things. She's so three-dimensional with how she creates the world. There are Americanisms and Newt is an Englishman in New York in the nineteen twenties. He's been in the field for a year. And so suddenly, he arrives in New York and everything is so huge. I remember the first time I went to New York when I was about eight or nine and staying at this hotel and just opening the window and just seeing Saint Patrick's Cathedral in front of you and then just these buildings flying up and being kind of totally overwhelmed by it. There were things I related to, certainly, in this sort of American-British thing.

QUESTION

So you guys are the new quartet, not the new trio, but the new quartet. What's it been like working with Dan, with Alison and especially with Katherine, given Newt and Tina's relationship?

EDDIE REDMAYNE

It's really been wonderful. There was a moment actually just above here, when we did our first read-through, but it wasn't like a huge read-through. I think it was just the sort of four of us and a few other people reading other parts. I mean, we'd only just all been on the phone together and then we were walking through Leavesden (laughing) and we sort of all just looked at each other going… <breathes heavily> "Whoa, here we go!" It was just sort of– (normal) Because you know that you're gonna spend a lot of time with people and there's a– But what David has done so wonderfully with Fiona Weir and Carson Graves is I think– J.K. Rowling's written such specific characters within this quartet who are so varied and there are sort of eccentricities and real differences between people that they've cast. There's a sort of eclectic quality to the um, four of us, I suppose. And getting to play off them has been just brilliant. Yeah, it's been really great. And it's kind of fun, I've never done something when you're a sort of team, you know. It really is four of you (chuckling) sort of taking everything on.
Having played in a TV show about animals when he was young, we asked Eddie about how he chose to play a magical zoologist, and how he chose to take on this role, as well as roles in the past. He never had a shred of doubt about jumping into the world of Harry Potter. As for other roles he has taken on in the past, Eddie said he was fortunate and lucky to be in a position where he could choose the roles he wanted to play, based off of characters and scripts that came his way.
Eddie went red, and was impressed that IMDB had trivia on his acting career all the way back to TV shows of his youth. With humbleness, he waved away any mention of his roles in Oscar nominated and award winning roles with a brush of his hand. For him, choosing to join the Harry Potter franchise over more serious roles wasn't even a question.
QUESTION

You're first IMDb credit was John Hardy on Animal Ark in nineteen ninety eight. So, we're kind of coming full circle. So… <laughs> I'm from IMDb so you know I had to ask. So, I'm wondering do you have any stories about that and how we've kind of come back to animals and did you have any hesitation or being in a franchise is something you wanted in the end of your career and…

EDDIE REDMAYNE

Well, Animal Ark, was when I was fourteen years old, and it was an ITV children's program and I did an episode called, "Bunnies in the Bathroom." And I'm not sure if it was my finest hour. My memory of it was that I was on holiday from school and I was going through a period of trying to sort of momentarily rebel, but I didn't want to dye my hair in peroxide 'cause I wasn't quite that rebellious so, I put that Sun-In stuff in that– And so, I just went more– and it was during this week of filming this thing and my hair just went more and more ginger. So, progressively each day the character went- But that is true. That is where I started. No, the franchise thing. Well, firstly I hope people enjoy it. But certainly being part of this particular world– once I read the script it wasn't even a question. It was just– I felt so damn lucky, frankly. No, so, if you're lucky enough to choose– which is, for me has been rare you, if you go by the script and you go by the characters and they're great characters.
Before we know it, it is almost time for Eddie to get back to making magical movies. Somehow the lengthy amount of time he spent talking to us felt like mere minutes. With only a few minutes left, Eddie talks about what it was like to film with the title characters of the show, the Fantastic Beasts.
QUESTION

We were talking about the four of you as actors, but can we talk about the four of you as characters and sort of what- because Newt is, sort of, new to this whole world. And what does he make of these three when he meets them?

EDDIE REDMAYNE

Well, he bumps into Tina, who had worked for MACUSA, she was an Auror, and she's sort of had her wings clipped in some ways and Katherine plays her. There's a sort of, I suppose, a work ethic to her and sort of do things by the book and desperation to re-prove herself. And then, her sister who Alison plays, Queenie. We we're shooting a scene and in the wand permit office where the two sisters are now working yesterday. And just the difference in set design in their desks, you know, Queenie's was sort of, filled with powder, blusher and sort of totally chaotic and you know, whereas, Katherine's was much more, sort of, organized and on it.

And Queenie just and has this sort of wonderful, sort of free spirited quality. And Dan is just– I mean Jacob is just sort of caught up in the mix but has the warmest of hearts and he sort of grounds this thing– I suppose, in some ways he's the eyes of the audience 'cause he gets pulled into this world and it's that mixture of growing abysses– terrifying. And please don't make me go back into the muggle world <laughs>. It's this sort of this amazing amalgam, you know.
While the live acting only involves puppets and actors, with the rest of the special effects filled in by CGI, Eddie expresses a Newt-like fondness for the creatures of the film. Newt has a special relationship with each of the creatures, and the creatures have special relationships with each other. Eddie had a hard time choosing a favorite to tell us about, but decided on a "Bowtruckle" named Picket, who has attachment issues and needs to be near Newt, or in his pocket at all times. While acting this out, Eddie had a finger puppet to play with, that stood in for Pickett the Bowtruckle.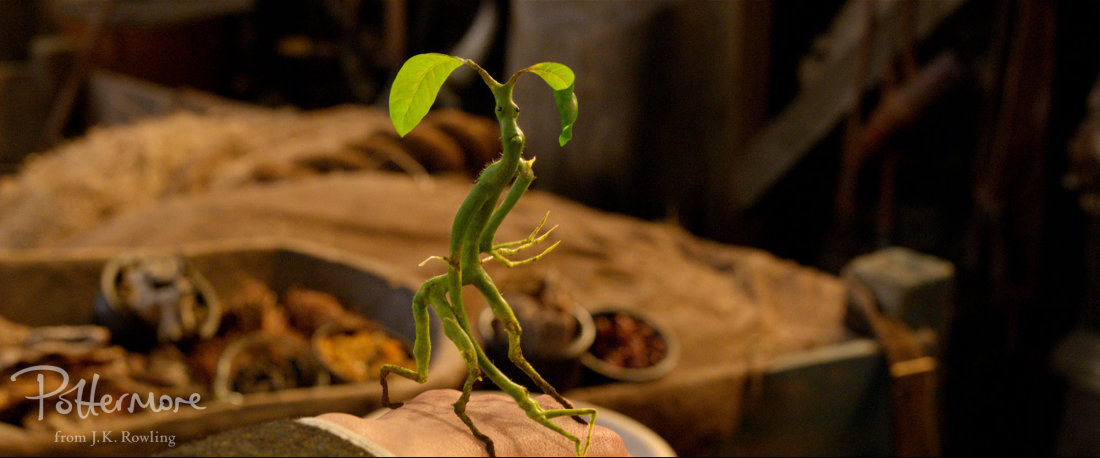 QUESTION

How're you guys shooting the scenes with the beasts? Do you have anyone that's kind of performing opposite you, or is most of it just you and David coming up with it…

EDDIE REDMAYNE

Well, I've worked with Alex Reynolds, who I've worked with on Theory of Everything and The Danish Girl who is a dancer and movement coach I suppose. And we just spent a couple of months sort of investigating that. 'Cause what was lovely is David didn't come in and go this how it's– He was like, "whatever," you know, let's make it a collaboration if you need actors to play opposite that we then, sort of, make disappear. Or puppeteers and so with each of the creatures, what was important for me was that Newt has a different relationship with them, but also that they have a relationship with each other. They all kind of live down in this case and I think he's in some way, sort of, you know, parenting their relationship with each other. And so, we sort of played around with different ideas and so, the answer is that it varies from character to character.

So, sometimes, for example, Pickett, who's one of my favorite characters. Who's a little stick man and he kind of lives in here. He has attachment issues, so, he always has to sort of be in my pocket. And when he comes up on to the shoulder– I started by having a puppeteer come with literally a finger puppet– doing it– feeling what that was like. And then they had a long, sort of, pole with Pickett, and made out of wire on the end and then, eventually, when we actually film he's not there and but by now, you have a sense of him and you can play with him. And then, sometimes, like, tonight we're doing a second unit thing with just a baboon in Central Park Zoo but the baboon's not going to be there. I find it was actually it was much easier to work with totally nothing and to sort of improvise with yourself (laughs)– I'm saying this with great confidence. It could be a catastrophe. <laughs>
According to the Fantastic Beasts book, Bowtruckles are little wood creatures, with brown eyes and eight inches in height, that typically dwell in trees. Bowtruckles are generally peaceful, but get violently protective of their tree…and in the case of Pickett, protective of Newt Scamander.
For more on the Fantastic Beasts in the films, see our set report here.