Noma Dumezweni on 'Cursed Child', Playing Hermione, and Meeting Emma Watson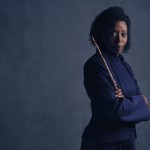 Sep 28, 2016
The charming and charismatic Noma Dumezweni (Hermione in the play production of Harry Potter and the Cursed Child: Parts 1 & 2) recently sat down with Paul Wontorek of Broadway.com for an interview where Noma discussed meeting Emma Watson, the secrecy leading up to the Cursed Child's production, and more.
Of meeting Emma, Noma said:
"I love her. She is a beautiful, graceful heart young woman. We got to meet before she met the bigger company, and I knew she was in before anyone else did. I had a heads-up. I went to meet her after the show. I just remember opening the door, she stood up and we just looked at each other and burst into tears. What an extraordinary thing – we both get to play this extraordinary character called Hermione Granger."
Noma calls her Cursed Child journey an "extraordinary ride". The actress says that she's been getting recognized on the streets, and that it's "lovely" and "weird", and that the Potter fans are "extraordinary". Of the fandom, she says:
"The love that's come out, it's been beautiful. So for all the negativity that happened, that's about 10 percent of the love that's come out – and especially those that have come to see the show."
Read more at Wizards and What Not.