Warwick Davis Rogue One Details Revealed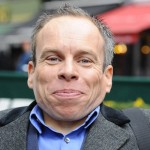 Dec 13, 2016
Warwick Davis is no newcomer to either Harry Potter or Star Wars fans. Before he was Professor Flitwick, and later Griphook, he made his film debut as the Ewok Wicket.
When The Leaky Cauldron broke the news of Davis' addition to the latest installment in the Star Wars franchise, Rogue One, the only uncertainty was the name of his character. His contribution to the series was always a sure thing.
Now, more details of his latest venture into the Star Wars universe have finally been revealed. Davis plays a rebel soldier and alien named Weeteef Cyubee.
As reported by FILM, Entertainment Weekly describes his character:
"Warwick Davis has played various characters in three Star Wars movies — and in Rogue One he's back as a wrinkly member of Saw Gerrera's (Forest Whitaker) team. 'Warwick is performing pretty blind inside the animatronic head,' creature-effect supervisor Neal Scanlan says. 'He is cocooned in his [costume], and his imagination brings such incredible life to his performance.' Though Weeteef is a good rebel, his look was inspired by a mean fish. 'We thought of a piranha,' says Scanlan, pointing out that Weeteef's name is slang (wee teeth) for his tiny, sharp incisors."
For a look at Davis in costume, as well a number of other Rogue One images and featurettes, click here for the full Slash Film article, and see below for a photo of Warwick's character from Entertainment Weekly!