Jason Isaacs Stars in 'A Cure for Wellness' Trailer!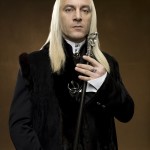 Dec 21, 2016
Remember the visceral reaction you had when Voldemort menacingly passed by a cowering Lucius Malfoy (Jason Isaacs) in Deathly Hallows? Recall the palpable fear and tension that registered on Malfoy's face?
Jason Isaacs is no stranger to both eliciting – and depicting – that feeling of terror. He brings that same quality to the creepy new psychological thriller, A Cure for Wellness.
Wellness, directed by Gore Verbinski (The Ring), also stars Dane DeHaan and Mia Goth. The story follows a young executive (Dane DeHaan) sent on an unusual errand by his employers. The CEO, whom he is expected to retrieve, has holed away at a recuperative treatment center in the Swiss Alps.
It proves far less idyllic than on first glance, however, and DeHaan's character grows suspicious. A twist places him into the care of the center's treatment staff – headed by none other than Jason Isaacs.
Director Verbinski comments on the prevalent theme of darkness in the film. He tells Collider that the film is 'spellcasting', trying to immerse the viewer in as much suspense and mystery as possible. Isaacs's character certainly adds to this tension, giving to the film his undeniably chilling portrayal of terror:
"I think the sense of denial, the sense of feeling like temporarily it's all going to be okay, and yet there's something else happening. There's a darkness lurking. There's a sense of the inevitable, like a cancer. Like a spot on your x-ray, pulling the protagonist towards an epiphany and a camera down a corridor. It's spellcasting, using everything you can–sound, image, characters, narrative–to sort of cast a spell. I'd like to think that that's another character in the movie is just this sense that something else is occurring, something that the character doesn't see or understand. A sickness. Really the onset of the whole idea was just exploring that."
According to IMDb, the film opens in theatres February 17th (U.S.) or March 24th (U.K.).
Jason Isaacs also stars in another thrilling mystery, the new Netflix series The OA. The series premiered December 16th. He's certainly keeping us in suspense of late!
View the latest trailer for A Cure for Wellness below. The film is rated R.