Universal Studios Hollywood Closes Gates for First Time in History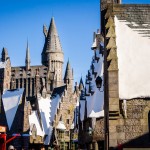 Jan 05, 2017
Barely a week into 2017, Universal Studios Hollywood beat its attendance record and has been forced to close its doors twice after reaching capacity.
According to Inside Universal, 44,858 guests visited the park on January 1st, and the park was forced to hold all those still wishing to enter in the security checkpoint area. The traffic continued through Monday, with gates closing to all those without prepaid tickets, and the visitor count still rose to 44,700.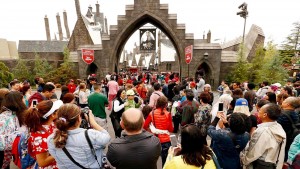 This increase can be attributed in part to the opening of the Wizarding World of Harry Potter in April. It is a testament to the attraction's continuing popularity and Universal's adeptness at creating a "total experience" that fans waited up to four hours to experience Harry Potter and the Forbidden Journey. In the wait up to experience the cutting edge motion-based dark ride, visitors took a stroll through the incredibly detailed classrooms and corridors of Hogwarts.
It's not just the rides that attract the visitors, it's this experience which keeps visitors coming back, as pictured from our visits below: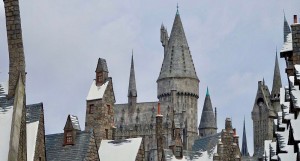 Photo: The castle overlooks a snowy Hogsmeade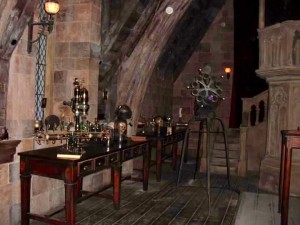 Photo: Visitors met a holographic Harry, Ron and Hermione (not pictured) sneaking into the Defense Against the Dark Arts Classroom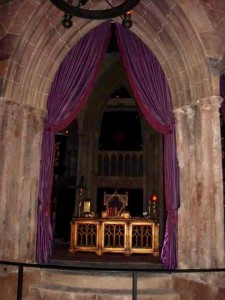 Photo: Dumbledore (not pictured) welcomed guests into his office from the balcony above his desk.
Potential guests tweeted from outside of the park:
@insideuniversal pic.twitter.com/nEPsO4pPri

— Kevin Ciracha (@Kevin_Castro22) January 2, 2017
2017 is looking to be an exciting year for Universal Studios and the Wizarding World, both in Hollywood and the Orlando parks. After attracting over 7 million visitors in 2016, fans can only hope there will always be enough Butterbeer to go around!