A Commemorative Birthday Wish for Alan Rickman's Snape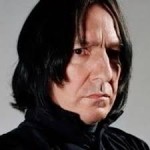 Jan 09, 2017
Today is the birthday of Severus Snape, just five days before the first anniversary of the death of Alan Rickman, the actor who portrayed him with such incredible depth and accuracy. Since much of the fandom considered Rickman to be the embodiment of their favorite character they loved to hate, we look back at how some, including the actor himself, perceived the infamous and iconic role.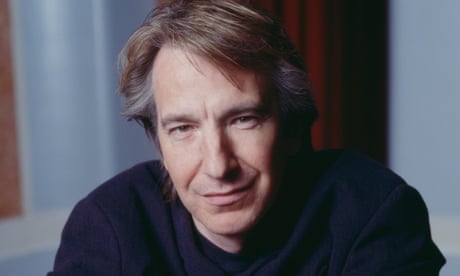 From Book One until his character's demise, this quote from an article on Tab.com entitled, "Snape Was the Tragic Hero of Harry Potter and Alan Rickman Nailed It",  epitomized how Harry Potter fans felt about Rickman's unmistakable portrayal of Snape:
"By the time he's finished saying "there will be no silly wand waving or incantations in this class" you're convinced he's somehow managed to walk out of the pages of the book and onto the screen. After he's sneeringly referred to Potter as "our new celebrity" you're on the internet checking if there even is such a thing as an Alan Rickman or whether he's actually just been Snape all this time and nobody noticed."
Prior to Deathly Hallows, there were copious numbers of articles, essays, and even theses written about Snape and whether or not he should be labeled hero or villain. By the Book Seven epilogue, we not only understood the truth about his history, motivation and intentions, we witnessed how Harry memorialized him in such a profound way and honored his legacy with his son's name.
Leaky posted an article in December 2011 called "Alan Rickman Talks Snape". There Rickman discusses his respect for J.K. Rowling and the fact that she knew how the story was going to progress and end so early in the series. Rickman told HitFix that same year that Rowling had shared "one tiny, little, left of field piece of information with him" that helped shape his performance. The LA Times Hero Complex article here goes on to capture the importance of this morsel of canon Rickman received from the author:
"Rickman's Hogwarts odyssey was singular in one major way: Early on, years before the ending of the bookshelf series, "Potter" author J.K. Rowling took him aside and revealed the secret back story of Snape, trusting Rickman and Rickman alone with one of the biggest twists in contemporary popular fiction. That set up the actor to portray Snape as something more complicated (and more tragic) than a mere black-caped villain."
According to this same 2011 article, even producer David Heyman felt the ramifications of Rickman's exclusive insight into his character. He commented on Rickman's work as Snape:
"It was quite amusing, too, because there were times when a director would tell Alan what to do in a scene and he would say something like, 'No I can't do that – I know what is going to happen and you don't. He had a real understanding of the character and now looking back, you can see there was always more going on there – a look, an expression, a sentiment — that hint at what is to come … the shadow that he casts in these films is a huge one and the emotion he conveys is immeasurable."
At the time, Rickman said about his character:
"I knew with Snape I was working as a double agent, as it turns out, and a very good one at that."
As we now know, via a tweet from Rowling soon after Rickman's death, that bit of knowledge he gained early on in the series was how Snape felt about Harry's mother and how that influenced his actions throughout the saga:
I told Alan what lies behind the word 'always'. https://t.co/NHTJ5J6kxb

— J.K. Rowling (@jk_rowling) January 18, 2016
The controversy about Snape's essential nature fired up shortly before Rickman's death in November 2015 on Twitter, as you can see here when Leaky covered a cyber discussion between J.K. Rowling and her followers entitled "The Great Snape Debate".  In the midst of the discourse Rowling says,
"I've got to say this: you lot have been arguing about Snape for years. My timeline just exploded with love and fury yet again." 
Rickman himself is quoted as saying the following about Snape's humanity, (also from Tab.com)
"When asked how he chose to portray Snape, Alan Rickman answered like any Potter fan would: "What I knew was he was a human being (and not an automaton)" In a world of larger-than-life half-giants, talking hats and three-headed dogs, Severus Snape was a human being every reader recognised. He was the scary, intimidating teacher you feared at school that you always talked about with your friends. He was the unfair disciplinarian you dreamed of triumphing over. And years later, when you were grown up and taking your seat in the cinema for Deathly Hallows Part Two, he was the adult from your schooldays you looked back on with the greatest respect."
Shortly after Rickman's death, Vanity Fair said of his portrayal of Snape:
"There are plenty of Rickman fans who prefer to remember him for earlier work in films such as Die Hard, Sense and Sensibility, or Truly, Madly, Deeply. But as tempting as it may be to write off Harry Potter as somehow less sophisticated or only for children, it's undeniable that Rickman, of all the performers, was doing the most nuanced and shaded work in Rowling's fantastical saga."
Be that he is bully or benefactor, there is not much doubt that Severus Snape is one of the most tragic characters in literature as well as film, and that Alan Rickman so masterfully brought him to life for us. Happy Birthday, Professor Snape, and thank you Mr. Rickman – you are truly missed, Sir.