Happy Birthday, Imelda Staunton!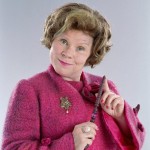 Jan 09, 2017
A very Happy Birthday to Imelda Staunton, the woman who plays the character we all love to hate, Dolores Umbridge! Imelda turns 61 today, January 9th.
Along with starring as our favorite villain (we all know we despised her even more than Voldemort himself at times) in the Harry Potter movies, Staunton has also starred in many other films including Vera Drake, for which she won the BAFTA Award for Best Actress in a Leading Role, Nanny McPhee, Maleficent, and Pride.
In addition to her film performances, she is an award-winning stage actress as well. Staunton has won three Olivier Awards for Best Actress in a Musical for her roles in Into the Woods, Sweeney Todd, and Gypsy.
This year Staunton received an Order of the British Empire as Commander of the Most Excellent (CBE) from Prince William.
Hopefully Staunton's acting will continue to thrill us both on screen and on stage for years to come! Don't miss her in the National Theatre's Follies next year! Happy Birthday from all of us at The Leaky Cauldron, Imelda!