David Thewlis Talks 'Fargo' Character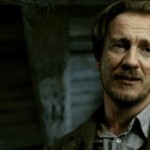 Jan 13, 2017
David Thewlis attended the Television Critics Association press tour, fielding questions about his participation in season three of the popular television series Fargo along with other cast and members of the production team.
Production began only recently, with some cast members having but one or two scenes under their belts to date, but they were still able to comment about the direction this season will take. Thewlis observed the following about his character, V.M. Vargas:
"He's a very mysterious character. He's from out of town. He is possibly ill-mannered and lacking in virtue. He's a Machiavellian-type character and unscrupulous."
According to a previous Leaky report, the new character is also described as:
"A mysterious loner and true capitalist who delivers Emmit (Ewan McGregor), the Parking Lot King of Minnesota, the bad news that he has just become partners with his employers, whose business interests lay outside the law."
This is an interesting turn for Thewlis, known to fans as beleaguered professor Remus Lupin in the Harry Potter series. Though viewed by many in the wizarding world as an outsider, he warmly took Harry under his wing and guided him through a difficult year in which Harry feared attack from both dementors and an escaped murderer in the Prisoner of Azkaban. This time, it seems Thewlis will be the one operating on the other side of the law.
As the series is a dark comedy, conflict will inevitably meet crime and intrigue, and it will be exciting–and, of course, amusing–to see how that plays out. Executive Producer Warren Littlefield revealed one highlight to watch for:
"[Series creator] Noah [Crawley] is enjoying how technology in many ways is supposed to unite, and perhaps that's not what happens at all. Visually and aesthetically you'll see Noah commenting [on that]."
Littlefield also hinted that there will be some thematic connections to previous seasons and characters. For character insights from other members of the Fargo cast, read Movie Pilot's full coverage of the press tour here.