'Flash' Producer Talks Tom Felton's Season 3 Future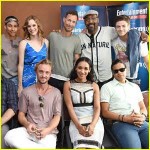 Jan 23, 2017
It's a big week for Tom Felton!
This weekend he joins former Harry Potter cast members Warwick Davis, Jason Isaacs, and Matthew Lewis at the Celebration of Harry Potter event at Universal Studios Orlando, with mysterious revelations keeping fans on the edge of their seats in anticipation.
He also returns to the small screen Tuesday, January 24th as Barry Allen's forensics lab partner, Julian Albert, when The Flash returns from its mid-season break. Executive Producer Aaron Helbing spoke with TVLine about the future of Felton's character going forward–and it sounds like good news, for now!
**spoiler warning: The following includes plot details from the first half of season 3 as well as hints at the upcoming storyline. **
Before the mid-season hiatus, the Flash Team discovered that Julian (Tom Felton) was actually Doctor Alchemy, the accomplice of Savitar. The revelation was a shock to all involved, including Julian, who had been acting at his behest while in a trance-like state. With Julian's help, the team was finally able to confront Savitar and free Julian from his service. Savitar's absence is likely temporary, but it seems Julian's redemption isn't.
Upcoming episodes will address the changing dynamic between Julian and Barry (Grant Gustin), which, until now, had been unrelentingly contentious. Helbing revealed:
"I would say they're conflict-free. The thing about Team Flash is they're willing to always give people the benefit of the doubt, give people a second chance. They're very big on people making amends for their past mistakes. I mean, we know Barry's made a ton of past mistakes. Cisco's made some mistakes. Caitlin's made some mistakes. So I think Barry will take the same attitude towards Julian that he takes with any of his other friends. Julian was overtaken by Savitar — he wasn't 100-percent here — but he feels culpable, so he wants to make amends."
The team already began making headway toward healing those rifts. Caitlin Snow thoughtfully invited Julian to share in their Christmas celebration. At first, he declined, but then he delighted fans by showing up to the West home–to a warm welcome by all!–in the closing minutes of the episode. His appearance left some fans wondering if there was hope for the thaw between Caitlin and Julian to go even further. Helbing demurred:
"I think they're just friends for now. They're two people who are struggling with what they've each had to go through this season, and they both understand each other's plights, and so it's just kind of perfect that they'll come together as friends. Maybe they'll go down that path, maybe not, but for now they share a common path that they want to try to help each other with."
Though no Flash episode is going to be conflict-free, and the remainder of Season 3 is sure to keep fans in suspense more often than not, it sounds like Felton's storyline is taking a positive turn overall, which is good for both Flash and Potter fans.
In fact, Helbing acknowledged that the irony of snagging an incredible actor like Felton for the starring role in a storyline titled "The Philosopher's Stone" was not lost on the series creators. He said:
"We talked about it quite a bit, not expecting to get such an amazing actor like Tom Felton. I mean, it was just amazing. It's like the stars aligned. We're all huge Harry Potter fans, but that was just complete blind luck."
Of course, we're all well aware luck played no part. Felton is, after all, charmed.
To read the full TV Line interview, including other plot details and character commentary, click here. Then tune in tomorrow to see the cast return in the new episode "Borrowing Problems From the Future." View the trailer below!