Happy Birthday to Mina and Lockhart and a Big Announcement from MinaLima!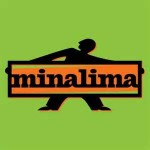 Jan 26, 2017
Today we celebrate two very happy birthdays in the Potterverse! The first is the talented Miraphora Mina from MinaLima and the second is the not quite so talented Gilderoy Lockhart (Don't tell him we said so!). MinaLima also announced some big news today along with it being Mira's birthday.
Mina is a graphic designer who has worked on all of the Harry Potter films as well as Fantastic Beasts and Where to Find Them. Along with Eduardo Lima, she created the graphic design company MinaLima. They are known for designing most of the props, posters, and maps for the films as well as many other projects. They even have a store in London called the House of MinaLima that you can visit to purchase their products. MinaLima also had a big announcement today that their store will remain open, so be sure to visit them at 26 Greek Street, London W1D 5DE.
BIG ANNOUNCEMENT: Our House of MinaLima in London is staying open! If you're in town, make sure you visit 26 Greek Street, London W1D 5DE pic.twitter.com/6qJcdkU9Lc

— MinaLima (@minalima) January 26, 2017
Currently Mina is hard at work alongside Lima in Universal Orlando prepping for this weekend's A Celebration of Harry Potter. Happy Birthday Miraphora! Enjoy that sunny Florida weather!
SNEAK PEEK: our House of MinaLima in @UniversalORL is coming along nicely! We're here for one weekend only for #HPCelebration (soundstage33) pic.twitter.com/2sxbsclbIg

— MinaLima (@minalima) January 26, 2017
If you want to wish Mina a belated birthday you can go visit both the incredible designers at their Meet and Greet tomorrow!
Mira and Eduardo's #HPCelebration Meet & Greet times for Friday 27 January are 11.30am until 1pm and 2pm until 5pm. We're in SoundStage 33. pic.twitter.com/Uy2xfHfYUx

— MinaLima (@minalima) January 26, 2017
Lockhart, who we all should remember as one of the least talented Defense Against the Dark Arts professors that Harry even studied under, is turning 53 today! Unfortunately due to a terrible memory reversal spell accident, it is unlikely he remembers today is his Birthday. We definitely haven't forgotten though! He is also being honored at A Celebration of Harry Potter by being the feature of their newest Chocolate Frog Card. We're sure Lockhart would be thrilled by this news!
Happy birthday to you both from all of us at Leaky and congratulations to MinaLima! Now we all have more time to make our way to London to visit their incredible store!