Emma Thompson to Star as Queen Elizabeth I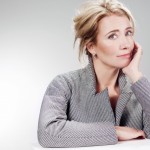 Jan 27, 2017
Viewers are mad for shows about the royals these days, and it doesn't seem to matter if they're period pieces or set in present day. The next season of Upstart Crow, the breakout BBC2 comedy, is the latest to fall into that category, and it's sure to draw audiences.
The show now boasts a collaboration with the always majestic Emma Thompson, taking on the daunting role of Queen Elizabeth I. It's a marked departure from her frumpy and flighty Professor Trelawney in the Harry Potter films since, here, she'll fill regal shoes and accessorize with a demeanor to match.
The show, which earned the title of Best New TV Sitcom at the comedy.co.uk awards, follows a struggling play-write by the name of William Shakespeare. Royal Central summarized the storyline for the second season as follows:
"During the next season of the comedy, viewers will see the now iconic play-write continue his epic journey to become a London play-write whilst still trying to keep his family, living at Stratford Upon Avon, contented. He'll receive help from his friends played by Rob Rouse, Gemma Whelan and Tim Downi. Shakespeare will suffer various commuting problems. He'll take a low-cost trip to Verona, endure coach cancelations, and survive an ugly reunion with a schoolmaster."
Filming for the new season, written by Ben Elton, is already underway. The regular cast returns to join Shakespeare on his misadventures with Paula Wilcox playing Shakespeare's mum, Liza Tarbuck playing his wife, Helen Monks as their daughter, and Mark Heap as the antagonist. Many notable guest appearances are also expected, including The Mighty Boosh's, Noel Fielding, David Mitchell, and Harry Enfield.
Considering the talent involved in season two, fans can expect Upstart Crow to continue picking up awards. After all, the last time Queen Elizabeth and Shakespeare had an iconic meeting on-screen, it earned Judi Dench an academy award for Best Supporting Actress in Shakespeare in Love. Continuing the tradition, it sounds like this show has all the elements of another classic British comedy, and Thompson's naturally dry wit will fit in perfectly–likely stealing every scene she's in!
To read Royal Central's full report, click here.