John Hurt Passes Away Aged 77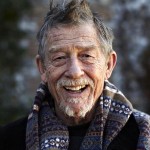 Jan 27, 2017
With great sadness we report on the death of legendary actor John Hurt, who has passed away from cancer shortly after celebrating his 77th birthday.
Hurt's career spanned more than six decades, and he was knighted in 2015 for his contributions to film, on which he commented " 'It does make one inordinately proud". He had been diagnosed with pancreatic cancer, but was cleared in July of 2015.
An acclaimed actor, Hurt has starred in various well-known titles: Elephant Man, Doctor Who, Merlin, Alien, Tinker Tailor Soldier Spy and 
Down, to name just a few. He's best known to Potter fans, however, as Garrick Ollivander, who gave that harrowing account of Voldemort's power to Harry so many years ago, as he got his first wand with a twin Phoenix feather.
We are deeply saddened by the loss of such a brilliant actor and wonderful man, and encourage you to share your favourite memories of John Hurt's career with us in comments and tweets. Join us here at The Leaky Cauldron in raising our wands. Rest in Peace, Sir John Hurt.
*****UPDATE*******
J.K. Rowling, Bonnie Wright and various Potter social media outlets have sent their condolences at the loss of John Hurt:
So very sad to hear that the immensely talented and deeply beloved John Hurt has died. My thoughts are with his family and friends.

— J.K. Rowling (@jk_rowling) January 28, 2017
John Hurt. What an acting legend. Rest in peace dear Sir. Wand shopping won't be the same without you ?? pic.twitter.com/jRrRCX8PZv

— Bonnie Wright (@thisisbwright) January 28, 2017
We are deeply saddened to hear of the passing of John Hurt, who played Mr. Ollivander. Harry Potter fans will miss him very much. pic.twitter.com/xgSjePd4aV

— Harry Potter Film (@HarryPotterFilm) January 28, 2017
Wands were also raised at A Celebration of Harry Potter today outside Ollivander's, led by MuggleNet staff:
As the second day of #HPCelebration begins, wands are raised outside Ollivanders in memory of John Hurt. pic.twitter.com/ZWtEDFZaLY

— Pottermore (@pottermore) January 28, 2017