Harry Potter Cast Share Memories at Talent Q&A Panel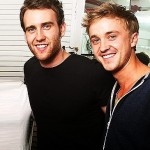 Jan 29, 2017
Tom Felton, Jason Isaacs, Matthew Lewis and Warwick Davis attended a Talent Q&A panel yesterday, for the second day of A Celebration of Harry Potter in Universal Studios Orlando. The questions – though nostalgic – emphasised the success of all four actors post-Potter, and allowed them to stress the love they had for the series in playing such a big part in their lives.
Tom Felton shared his love for J.K. Rowling's wizarding world, which he said at its heart has "a very powerful and strong message, and going back to the community of it, it has that aspect where it can bring millions of people who might feel disengaged with what's happening in the rest external the world, it gives them something that feels real. It feels like something worth fighting for and worth getting together and campaigning for. Off the back of that, just so much positivity can happen."
He shared an important piece of advice with fans at the panel: "Don't hug Voldemort". We weren't planning on it, Tom, but thanks anyway! His favourite moment on set was his time during Half Blood Prince, whilst Jason enjoyed hurling verbal abuse at Dobby, Matthew loved destroying the bright in Deathly Hallows Part II, and as he shared in the Creating Magical Creatures panel, Warwick's favourite was his charms class scene.
Tom also spoke about the bullying he experienced as a result of his casting, and jokingly gestured to Matthew Lewis:  "I'll show you a picture of what you looked like when you were 12."
Jason Isaacs shared what he sees behind the racism of Pureblood politics in the wizarding world:
"There is a very recognizable racist and supremacist [in Lucius Malfoy], acting out of fear and thinking that the past was a better time," he said. "And scared of Muggles and scared of the future because it feels like his place was some time ago, when he was part of the super-elite who could look down on the rest of the world. You don't need to look too far to find many politicians standing on those platforms. Those issues are never more relevant than today, [but] they are dealt with in this kind of magical world."
He gave a lot to the character, who originally would have looked and sounded very different:
"I asked for the wig, the robes. They wanted me in a suit with ordinary hair. I tried to come up with the voice, because Alan Rickman [who played Professor Severus Snape], the greatest screen villain certainly of our age —  I knew he was in it so I had to come up with a voice I thought that sounded like finger nails on a blackboard. I wanted a voice that irritated you in one syllable."
Jason has previously enjoyed the Wizarding World of Harry Potter, and though he's nothing like a death-eater in real life (in fact he regularly speaks out against Pureblood politics on his Twitter), he's clearly feeling Slytherin pride:
Isaacs explained that the inspiration for Lucius came from an old drama teacher, who was anything but encouraging to the young actor:
"[They] would constantly whisper in this very high voice, 'You'll amount to nothing, Isaacs. You will never work,' and this British art critic, Brian Sewell," said Isaacs, who also disclosed that he had initially auditioned for the role of vainglorious Defense Against the Dark Arts professor Gilderoy Lockhart. "The director [of the first two Potter films], Chris Columbus, would come up to me and say, 'So we had that take, it's great, but could we do one more where you pull back on the voice like 80-90 percent?' "
We know there were pranks on set, but Rupert Grint may have taken it a little far when he threw a dart into Matthew Lewis' foot. Daniel Radcliffe also switched phones around, and a fart machine made its way around set – you can tell how fun it must've been to work on such a production.
Jason and Tom both agreed that "Malfoy is the kid who didn't have a choice. Draco is the hero of the series", echoing Jason's statements of fear driving hate in most cases.
Favourite costumes on set were varied, with Matthew Lewis basically liking any item of black clothing (specifically Draco's tailed suit), Warwick loved Snape's and Tom loved cardigans (specifically Umbridge and Neville's). Jason's favourite food is Bertie Botts, Warwick loves Butterbeer, Tom's choice is chocolate frogs and Matthew just loves ice cream. Fans at the event are being treated to all of these at the park – what's your favourite wizarding treat?
It was lovely to see the actors come together again and share their memories of their time on set. We're always enamoured by the relationship between the cast and audience at these events, every time the last comes together it feels like a school reunion.
Watch the full panel below, and recap Day 1 of A Celebration of Harry Potter here and Day 2 here. Share your experiences at the event in the comments – we'd love to know how much you're enjoying it!