Perfect Ending for Broadchurch Season 3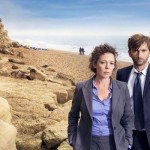 Jan 31, 2017
While David Tennant played the tongue flicking Barty Crouch Jr, he plays the complicated DI Alec Hardy in Broadchurch.
For its very last season, Tennant and Olivia Coleman return to the show to play DI Alec Hardy and DS Ellie Miller.
The drama will end with the third season, but Tennant is insistent that it will leave the fans on a good note. The dark and dramatic series is finally coming to a close, and even though it hasn't premiered yet, it's still sad to see it go. But don't fret! According to the Evening Standard, Tennant said,
"You don't want to give anything away, but I think [the ending] strikes the perfect note. Certainly in the case of my character and Olivia's character, it leaves them exactly where you would expect them to be left."
Chris Chibnall, the creator, said that everyone who's been involved with the show, read the script or seen it, feel like there's a sense that the story is ending and, "going back to its beginning."
Following the trend of the prior two seasons, it's likely it will be even darker than the first two, and even more fascinating.