Daniel Radcliffe on Upcoming Play and Open to Returning as Harry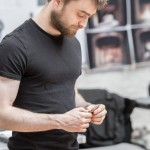 Feb 08, 2017
Daniel Radcliffe appeared today on Good Morning Britain with co-star Joshua McGuire to discuss their roles in the upcoming 50th Anniversary production of Tom Stoppard's Rosencrantz and Guildenstern Are Dead at the Old Vic in London.
When Radcliffe was asked about returning as the Boy Who Lived, in a possible film version of Harry Potter and the Cursed Child, he said,
I really don't know,''I think that's all highly theoretical talk. If it was ever to become more than theoretical, I would of course think about it!'
Digital Spy reported that Radcliffe and McGuire (Lovesick) are in rehearsals for the new production of Rosencrantz and Guildenstern Are Dead as reported by Leaky here last year, and Digital Spy asked them a few questions about the show in a recent exclusive interview here.
When introduced to the show, Daniel said he felt,
"Just very excited, and a little intimidated. The size of the thing you're taking on. It's a lot to learn, it's a challenging show, but incredibly fun and rewarding to do."
He and pal McGuire have  had intertwining careers, ranging from working together on a Young Doctor's Notebook,  and also on the Broadway play Privacy. 
Joshua stated that,
"We've worked together a few years ago, and have kept in contact – and our careers have these sort of weird parallel paths."
Daniel continued saying,
"We worked together on Young Doctor's Notebook, and also playing interchangeable versions of each other. On Young Doctor's Notebook, he was an even younger doctor. Then on Privacy, we played essentially the same character, Josh did it off Broadway. Then in this play, we're slightly interchangeable as well. It's a cool, odd kismet."
Their friendship is quite obvious in the play, and it helps with their relationship onstage. Daniel commented that,
"Imagine if you didn't like them. It would also be a very different play. That would come out. You could play these characters as not liking each other, probably. Or you could play them where they frustrate each other but, essentially, they're friends."
Meanwhile, Cursed Child  is continuing in its massive popularity – Daniel has yet to see it, but for a good reason.
"I'm not trying to stay away from the show. I'm trying to stay away from what could potentially be the experience of seeing it. I know other people from the cast have gone to see it, I just feel like if I was sitting in an audience of Harry Potter fans, it would be possibly be a slightly different show, and it would possibly be that I would be watching it as much feeling people watching me watch it. This could all be in my head, but I just envisage it possibly not being relaxing. I had a beard until two days ago. And then I knew I'd be doing this, so I shaved it off, and then realised how immediately it makes me look younger and more like Harry Potter."
Lastly, Digital Spy asked him if he'd feel possessive over the role of Harry if someone else portrayed him on film;
"I don't think I'd have any right to! If somebody else played it, I'm sure it would be weird, but I'm sure I'd get over it. James [Parker] is playing it, and I'm very happy with that."
From the sound of  today's interview though, it appears that Daniel is open to crossing paths with his old friend Harry again if the possibility arises!
Watch the clip of the Good Morning Britain interview here.
Rosencrantz & Guildenstern Are Dead starts previews at The Old Vic from February 25 and opens on March 7.