Getting to Know Anthony Boyle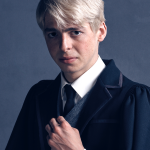 Mar 03, 2017
One of the newest members of the Potterverse, 22-year-old Anthony Boyle, is receiving much attention as of late for his performance as Scorpius Malfoy in the award-winning West End play Harry Potter and the Cursed Child. In addition to the Best West End Debut Award he took home last year from the West End Frame Awards and the Critics Circle Award for Most Promising Newcomer, as reported here by Leaky, Boyle recently spoke to Boys By Girls and Interview Magazine on Potter, some words of wisdom, his future, and going blonde.
Congratulations to our #CursedChild #CriticsCircleAwards winners; @antoboyle, @johntiffany and Christine Jones! pic.twitter.com/YCuXgbNoze

— Harry Potter Play (@HPPlayLDN) January 31, 2017
Boyle's audition for Cursed Child came soon after his graduation from Royal Welsh College of Music and Drama. About the tryout experience, he said,
"It just said I was auditioning for "lead boy" in the casting breakdown that was sent out; I wasn't aware who the character was until I had read the script on the last day of auditions. No one knew what the play was about, so I thought I was going to play Sirius Black."
Three days after he read for director, John Tiffany and producer, Sonia Friedman, he got the part of Draco's son and Albus Potter's unlikely best friend.
During the Boys By Girls interview, Boyle was asked how he felt about being part of the epic world of Harry Potter through this new stage play, and he responded with praise for the fandom,
"It was weird, because during the rehearsals our director John Tiffany kept saying to Sam, the guy who plays Albus; 'This is going to be quite big'. We knew the films were massive, but as this is theatre we were wondering if it was going to have the same sort of reach. It has been lovely; the fan base is just like no other fans in the world, they're so on it and you can see why people feel such a connection to the books."
Being a natural brunette, Boyle talked quite a bit to both magazines about his experience as the blonde Malfoy. To BBG he said,
"I love it, I genuinely love it, I've always wanted to go blonde. The first time I put it on it all just came together and felt right. It's a bitch to get off though! Well you've got glue and pins, so it's a nightmare getting off – but I like putting it on."    
Boyle told Interview this about his stage hair,
"In the show I wear a wig, but I always wanted to dye my hair blond cause I'm a massive fan of Eminem. So I wanted to dye it blond, but they said that because my hair is so dark naturally that within a week it would fall out and we couldn't have a bald 14-year-old."
  In addition to giving some scoop on Scorpius' appearance, Boyle shared some details about his character's comedic tendencies and serious moments throughout the progression of the show,
"In the first play, his role is definitely quite fun and so it's lovely to play, but can also be quite high pressure. Stand-up comedians are often the people that are the most impressed. When you have to make people laugh there's a certain pressure, but the audience so far have been incredible and giving warmth towards the character, so it has been a bit of a gift. In the second play he then was on a real huge journey, and there's a lot less comedy in that presence. I got to be a lot more serious. I don't want to give too much away, but he has to save the world."
Unlike the antagonistic Potter/Malfoy relationship that fans are familiar with, bonds have been forged on stage as well as off between Boyle and his cast mates portraying men from the first wizarding family. He shared this story of some sage advice he was given by the award-winning Jamie Parker, who plays the adult Harry Potter in Cursed Child,
"It's interesting, the guy who plays Harry Potter is Jamie Parker. Class actor, I've learnt so much from him. One day I was feeling really down and I was like; 'I don't want to go on tonight, I don't want to go on', and he said, 'you don't get paid for what is good, you get paid for when your dog's died. You're having a shit day and you have to go on and you have to tell the story and you have to feel – that's when you get better focus. I don't know how, I haven't learnt how to separate that yet. You always bring a bit of what you've done that day onto stage, or else you are not doing it right."
The #WOSAwards Best Actor In A Play has been won by #CursedChild's Jamie Parker (@DickLeFenwick). pic.twitter.com/UEpnuD9MLM

— Harry Potter Play (@HPPlayLDN) February 19, 2017
During his fantastic experiences on stage and screen so far, it seems as if this young actor has taken other's wisdom to heart, and transmuted it into insightful words to live by which he's offered to others pursuing a career in acting as well as people in general,
"I think one piece of advice is, which someone said to me, which is simply to be yourself – because nobody does you better than you. You should embrace the newness of you, because no one has the same story. No one has been through the same experiences, has the memories and can draw on those things or looks like you or sounds like you. You know what I mean? So, as long as you embrace that, that's the only piece of advice really." "I've got a quote from Hamlet here, it goes; "to thine own self be true", and it was the same thing I was talking about earlier, the you'ness of you. As long as you stay who you are, don't forget where you're from and be yourself, I think that's the best policy – as opposed to trying to be something you're not to change yourself, or to fit someone else's standards."
Boyle discussed where he thinks his career might take him in the future. He said that he admires the work of some well-known character actors, one of which is noted theater veteran, Timothy Spall, Harry Potter's Peter Pettigrew. About these types of performances, Boyle said,
"these actors are the ones that let you in. There's this connection I have with actors who are not afraid to be vulnerable, who open up and let you see it's them. I think that's true talent."
He told BBG that when he is finished with Cursed Child in four months, he would like to write a play and to do more films. With role models like those he mentioned, his apparent maturity, and obvious talent, Boyle is sure to go far.
The Interview Magazine article can be viewed here and the Boys By Girls article here.