Michael Gambon Visits Shears Green Junior School for World Book Day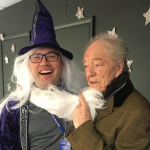 Mar 03, 2017
The Harry Potter books are an important part of many kids childhoods. Ever since they were first released, kids latched onto the characters and the story, reading and rereading the books until they fell apart. Which is why there is no surprise that today, World Book Day, thousands of children dressed up as their favorite Harry Potter character for school.
One school in particular got a nice surprise this morning. Michael Gambon spent his morning among the students of Shears Green Junior School in Northfleet, speaking during their assembly and signing autographs.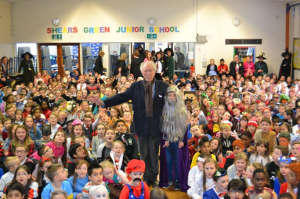 The staff kept the visit a secret from the students until the day came, all dressing up as Harry Potter characters in his honor. Deputy head Matt Paterson dressed up as Professor Dumbledore, praising Michael Gambon for his visit:
"Everyone is still buzzing. He popped in yesterday morning and spoke to the adults first and we gave him a tour. Then he did an assembly with the whole school – 480 children – where they asked him questions. We showed some clips of him in Harry Potter and on Top Gear and then there was an open question and answer session.  Some of the pupils interviewed him for their World Book Day podcast, it was an incredible interview. The children only knew him as Dumbledore but the staff knew him from all the films and television shows he's done over the years. He was such a nice guy, nothing was too much for him. He was so down to earth and laughed and joked. He referred to himself as Dumble'bore' saying he wasn't very interesting. He was very generous with his time and the children were really inspired."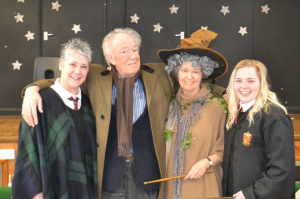 Michael Gambon happened to be close friends with one students father. Teachers approached him one day when he was picking up the student, proposing the idea of a visit on World Book Day to the actor who jumped at the chance. What a guy!
You can catch this kind-hearted actor tonight on the Late Late Show with Ryan Tubridy!
IFTA also recently announced that Michael Gambon will receive the Lifetime Achievement Award at the 2017 IFTA Film & Drama Awards Ceremony for over 50 years of acting. The ceremony takes place on April 8th in Dublin, join us in congratulating him on this great achievement!
See more about his amazing visit to the school here.